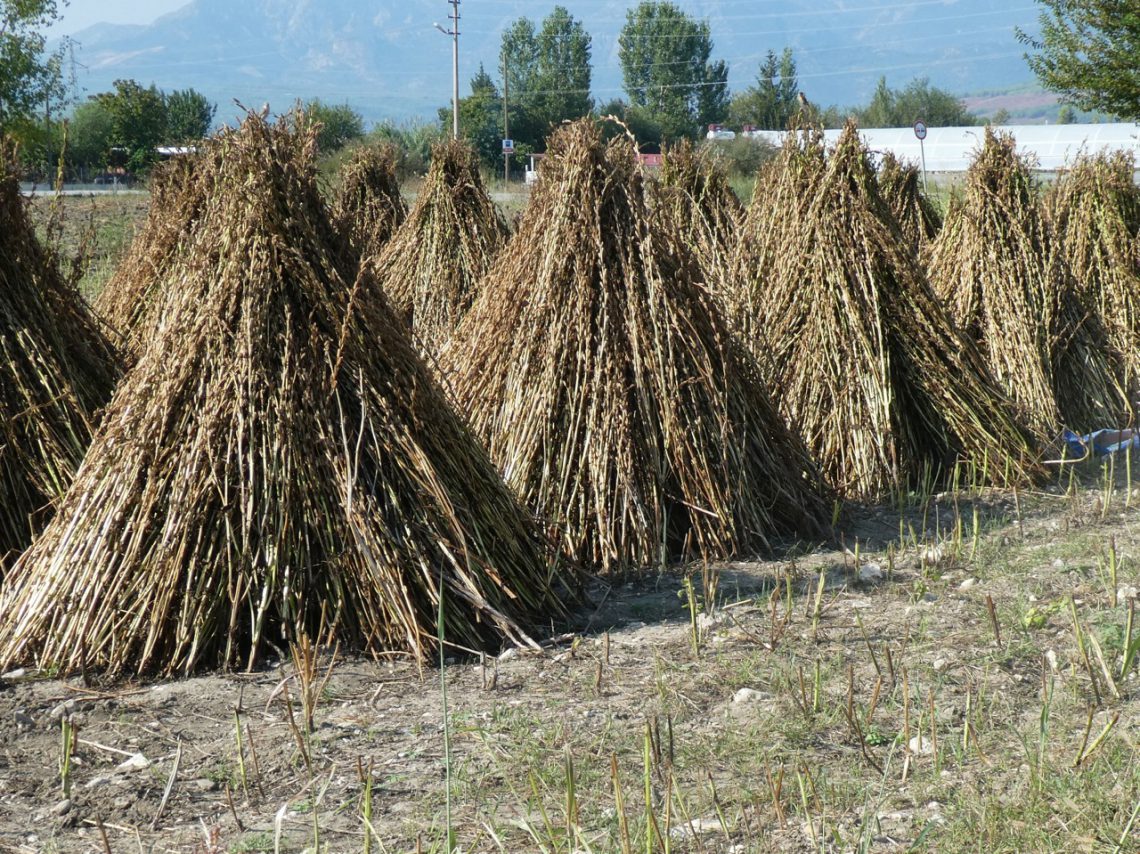 Sonbahar – Autumn in and around Fethiye
Photographs by Mike Vickers
Feature photo above: Sesame wig-wams drying in the sun near Kadiköy


Autumn has arrived. Yes, the days are still very pleasantly hot and sunny, and yes, most evenings remain balmy, but the first proper rains since the spring swept through the other Saturday – sometimes horizontally and accompanied by pea-sized hailstones bouncing enthusiastically off our terrace – and that pretty much heralds the changing of the seasons.

After the torrential downpours which disrupted the first day of the Kaya Festival, the first green stubble has started spreading across the valley fields and kerbsides as seeds and roots stir in the damp soil, announcing the imminent demise of summer and welcome arrival of sonbahar, the autumn.


Despite the generally clement weather, there are noticeably more clouds rising over the mountains during the day, but the blistering summer heat has definitely, thankfully, subsided, The early evening sun now has a lovely golden glow, but the nights are drawing in steadily and those who are out and about after dark are starting to wrap up – ladies, it's time to break out the pashminas!

The end of the tourist season coincides with these changes, although for some that ending has already occurred after the demise of Thomas Cook. It is expected fewer visitors will be arriving for the final 'half-term holiday' week at the end of the month and some businesses have decided to close early.

While Harvest Festivals are celebrated in the UK, here, the drift into autumn triggers changes in the produce found in the local markets. It's pomegranate season, olives are being picked and the apple harvest is in progress up at Elmali in the mountains. Conical sesame wig-wams can be seen dotting the fields around Fethiye, the cut stems drying off and dropping their seeds ready for collection. Up and down the Kaya valley, cows and sheep have started to reappear out in the fields as the grazing begins to pick up again.


Elsewhere, many of those huge and stately shade-giving plane trees are starting to shed their brown-edged leaves and tall poplars are turning a lovely golden up in the mountain yaylas. Fallen leaves are scratching across the roads and collecting in corners.


Dawn mists drift across the Kaya valley at this time of year, tinged with the faint smell of wood smoke as sobas, those simple wood burning stoves, are brought out of summer storage and reconnected to their flue systems. Rural communities have been busy collecting wood for their winter fires. The higher up in the mountains, the bigger the wood stores – is there a mathematical correlation between altitude and size? Bags of coal and little bundles of çırpı kindling sticks can now be seen stacked outside local bakkals.


Modern Fethiye is not immune to these seasonal changes. Shops have begun to switch their stock. As a married man, I've been expertly coached on the location and content of almost every shoe shop in town, and even I've noticed the arrival of their winter displays of warm boots and sensible waterproof shoes. Clothing shop mannequins are dressed in heavy coats, jumpers and rain wear, fluffy hats and gloves. Some sporting shops have bought in stocks of chest-high waders and full-hood ponchos in fetching olive green PVC, perhaps in anticipation of a particularly wet winter. You heard it here first.


To be honest, most Turks are not exactly enamoured with the approach of winter, and being an admirably practical people, make suitable provision wherever and however they can. I can bear witness to this. Many years ago, while travelling by car up from Fethiye to Ovacik on the old road, long before it had been straightened and widened, we fetched up behind a slow-moving tractor hauling a spectacularly overloaded trailer stacked high with tuğla, those terracotta honeycomb wall bricks. To be honest, 'slow-moving' is a generous description of its progress. Most glaciers are more sprightly. Anyway, after following for a while, a break in the oncoming traffic finally allowed us to overtake. I glanced over at the tractor driver as we passed and had to chuckle. He was wearing full biker black leathers; heavy boots, padded trousers, zipped-up James Dean jacket, gauntlets and a full-face black helmet with blacked-out visor. His outfit seemed a little – well, extreme for such a sedentary vehicle. A Harley-Davidson cruising through the mountains, yes, but a chugging tractor?

Later in the day, I asked a Turkish friend about this. 'He was probably cold,' came the simple reply. A practical people indeed.