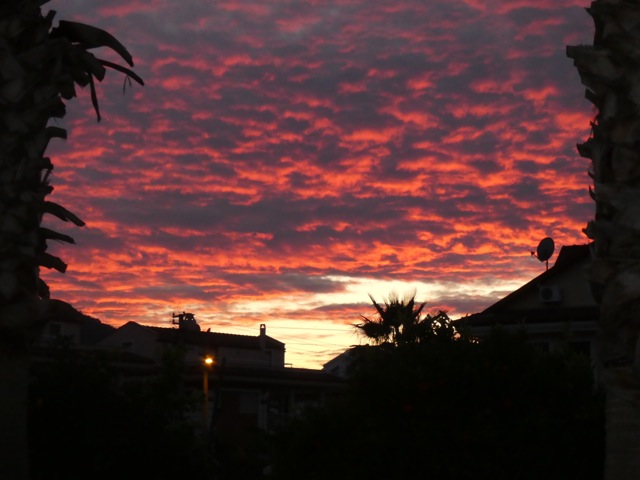 Photographs by Sue Dawson and Mike Vickers.
Feature photo above: Glorious mackerel sky winter sunset over Fethiye.


Some of you may recall an article I wrote just before Christmas last year entitled Remember The Summer? In it I promised, once summer itself had fallen upon us with all its big, golden-yellow sunshiny strength, a follow-up article on winter in Fethiye would duly appear. Well, guess what…

Any inhabitant of Fethiye will tell you June is the month where the temperatures really begin to rise, seemingly almost on a daily basis, so once July arrives, the full force of summer has well and truly established itself over Turkey. Unless global warming – sorry, climate change as it prefers to be called nowadays – unpredictably disturbs the lethargic underbelly of summer, that's it until the middle of September. We're now well into a good ten weeks or so of really tropical weather, so in a valiant effort to take your minds off the relentless heat, let's look back at winter with misty eyes and fond memories of life without perspiration.


Well, I'm racking my brains but there's not really a big downside to winter around here. Yes, if you live up in the mountains you'll have snow to contend with – as you will every year and so are suitably prepared – and the rain can wallop you from sideways-on if you're caught out in a storm, but on the whole, winter life in Fethiye is really rather pleasant. If you think this is not the case, I suggest you have a chat with the hardy folk of Svalbard. Now there's a place with a proper winter. And polar bears!


'Just off to the shops, love.'
'Ok. Got your list?'
'Yes.'
'And what did we learn from last week?'
'To get only what's on the list.'
'Excellent. Don't forget your high-powered rifle.'

With that scenario in mind, I think most people will agree Fethiye's not such a bad place after all. The night-time temperatures only occasionally dip to anywhere approaching zero and most days are, on the whole, mild and pleasantly sunny. Drop a fresh log in the soba, put on a jumper or light coat and you're cooking on gas. We get rain, yes, and lots of it, sometimes in the form of spectacularly violent storms, but these are usually followed by a swift transition back to bright sunshine again, making even the most torrentially horizontal tempest bearable.


The winter months in town are now noticeably more busy than they used to be back in our Yakamoz Hotel days, when a goat could be led with impunity up the middle of Atatürk Caddesi without fear of it becoming a bonnet mascot on a Porsche Panamera. The increase in both local and ex-pat populations now ensures Fethiye is most definitely a working town all year around, with just a hibernating Paspatur and the ability to actually find a parking space any indication that it's the off-season. This is in contrast to Hisarönü, which is seasonal in the extreme. In winter, it's the sort of place that ignites great enthusiasm in aficionados of steel shutters.

Thankfully, lots of restaurants in Fethiye now remain open all year round and employ a mighty fine combination of sliding windows, temporary plastic screens and welcoming sobas that really belt out the heat, creating a welcoming, warm and cosy atmosphere. Those employed in tourism take full advantage of the off-season to relax, meet friends for coffee and have a good chat. Walking groups walk without fear of exploding in the heat and the boatyards beyond Karagozler are busy repairing, servicing and renovating all manner of vessels. There's a distinct whiff of fresh paint in the air.

We find strolling along the kordon a very enjoyable winter pastime. The air is often crystal clear, with grand views of the snow-capped peaks that surround Fethiye. We're sheltered here, undoubtedly the primary reason Telmessos of old was established in this location – the harbour is superbly protected from storms by Şovalye Island.


Swimming pools that are bathwater warm in summer turn a startling shade of green and resonate to the musical croak of frogs in winter. Or is that just our pool? Greeted like old friends, windscreen wipers, rear de-misters and heaters are rudely awoken from their summer slumbers. Many roads are treacherously slippery in the rain and extreme caution is necessary when negotiating even the slightest corner. We have a taxi driver friend who never ventures out for the first week of rain because it's simply too dangerous. At higher altitudes, snow can often block the main D350 to Antalya over the mountains and snow poles line the road on either side of the Karabel summit. It's an incongruous sight in August when you're stuck to your seat with sweat.


Unlike in summer, when queuing for a dolmuş is an exercise in finding shade, winter can offer a somewhat different experience. Here's my own personal example from the other end of the scale. Imagine the scene. It's a dark and viciously windy night the middle of January, the sort of night where there's really nothing more depressing than waiting in a deserted downtown Hisarönü for the very last 11pm bus to Fethiye. Wind howled up the empty road. Anything that could blow away had already done so and was now well on the way to Seki. I'll tell you how desolate it was – every single one of the twelve Migros stores in sight was closed! I looked around. The term "bus shelter" failed miserably under the Trades Description Act. The only respite available was to make myself as small as possible – no mean feat – and cower from the biting wind behind a suitcase. I can honestly say it was the only time I've ever been cold in Hisaronu. Lord, was I relieved when the dolmuş finally appeared, its welcoming interior steamy and warm.

Before the season began, I once found myself planting 500 marigolds in the garden at Yakamoz when a storm reared up from nowhere and crashed through like a freight train. Determined to finish my gardening job, I carried on with frozen fingers and muddy knees wet from the claggy soil. Rain got under my coat collar and trickled down my back. With the last marigold finally planted, I looked up through dripping spectacles as the storm cleared away having dumped a huge amount of fresh snow all over Mendos and Babadağ. I may have been utterly miserable, but I've never forgotten just how breathtakingly beautiful it was.


Anyway, in an effort to take your minds off the relentless heat, here's a list of temperature-themed films personally recommended for watching whilst sitting in the dark with two fresh freezer blocks wedged in your bra and enjoying a Yakut Magnum:

Dr Zhivago – nobody does snow like the Russians. Everyone knows that.
Frozen – come on, what's not to love. Sing-a-long, anyone?
The Day After Tomorrow – the bit with the ravening wolves is great.
Ice Station Zebra – nothing's cooler than Patrick McGoohan in a parka.
White Christmas – see if you can spot George Chakiris in a very early role.
The Eiger Sanction – Clint's more rugged than an Alpine peak.
Ice Age – in a major departure from reality, a kindly sabre-tooth tiger?
Snow White and the Seven Dwarfs – according to my wife, I'm three rolled into one; Sleepy, Grumpy and Dopey.
The Lion in Winter – contains some of the best ever arguments in cinematic history.
The Shining – here's a tip, never, ever, EVER overwinter with Jack Nicholson.
The Polar Express – if Tom Hanks can get a train to the North Pole, how come four snowflakes at Pinner manage to cripple Britain's railways?

So, as we sit with our feet in bowls of cold water under air conditioners turned up to the max, cast your mind back to winter in Fethiye. It's not really all that bad and frankly, if you do find yourself disappointed with its balmy climes and want to experience some proper snowy action, then get yourself over to Kars on the Turistik Doğu Ekspresi. That'll sort you out. We know, we've done it – and don't forget your long johns!