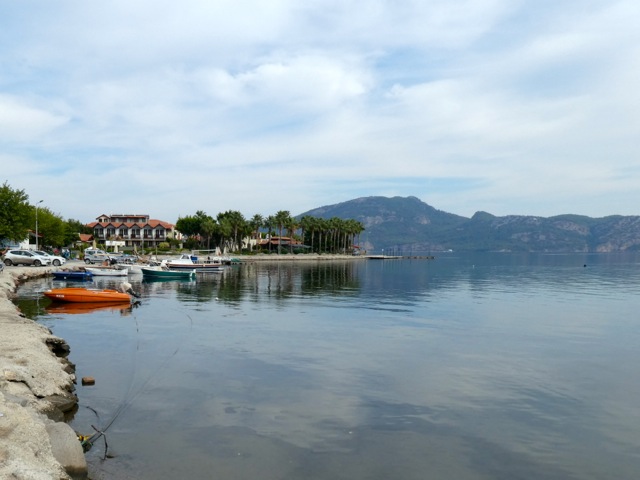 Photographs by Mike Vickers
Feature photo above: Tranquil Selimiye


Released from lockdown, the end of summer brought on a flurry of trips for Jan and I as we indulged in our hire car fetish to restore a sadly-battered sense of freedom, and one of those micro-holidays was a two-day visit to Selimiye.


Located the far side of Marmaris on the Bozburun peninsula, getting there could not be simpler – once again you just stay firmly attached to the good old dependable D400. From Fethiye, head towards Muğla and turn left to Marmaris at Akyaka, where the road runs alongside that majestic avenue of enormous eucalyptus trees. We actually stopped in Akyaka for a spot of lunch at one of the many very picturesque riverside restaurants, sitting out over the stream whilst being observed by ducks, kingfishers and trout swimming in the pristine clear waters.


Satiated, we drove on, plunged into the restless bustle of Marmaris and emerged still on the D400, but now following the signs to Datça. From this point onwards, there are very few junctions on the road so the turning at Hisarönü (no, not that Hisarönü) is well signposted. Swing left towards Selimiye and Bozburun and just stay on this delightfully scenic route as it hugs cliff and bay past Orhaniye and all the way to Selimiye.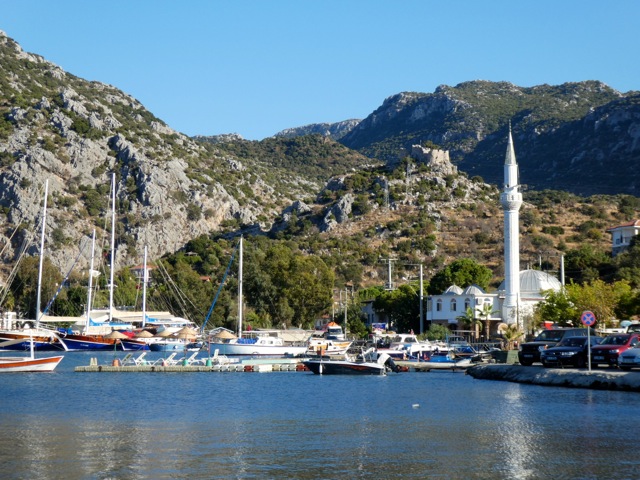 Selimiye is essentially a one-street village spread out around its sheltered curving bay, and all entering traffic has to exit on the same narrow road since this is a cul-de-sac. This can cause problems with congestion and parking. We arrived at the tail end of the season and yet there was still a fair amount of chaos caused by the usual indiscriminate abandoning of vehicles (or parking, as it's often inaccurately entitled) all along this road.


We have noted over the years that almost all Turkish drivers don't see why they should have to walk any distance and are therefore compelled by an overwhelming necessity to park as close as possible to their destination, and if this causes problems for other drivers, then that's tough. So it proved to be here. Thankfully, Selimiye was by now relatively quiet, so goodness knows what it's like in high season. That said, on entering the village there is reasonable parking alongside the sea front, where we managed to successfully stash the car. Locals informed us this parking problem is well known to the authorities and regular patrols remove the most egregious offenders on the back of a tow truck. I'll bet that's fun to watch.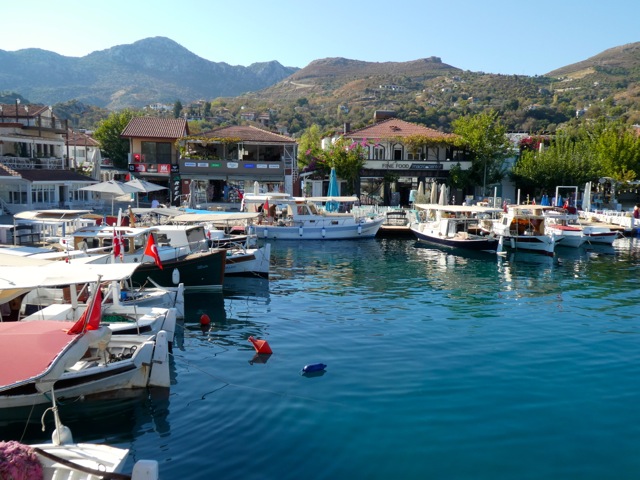 We have always liked Selimiye, having been once before many years ago. The village is relaxed, easy-going, low-rise and very scenic, with a good heart of buildings clustered around its harbour. It's also an excellent base from which to explore the local area. The only road passes on around the back of the village and eventually ends at Bozburun, with its sheltered moorings, small harbour and mixture of restaurants and guest houses. If you want to venture further, Datça is also well worth a visit, the scenery all along the D400 as it winds back to its town of origin is really very pleasant indeed.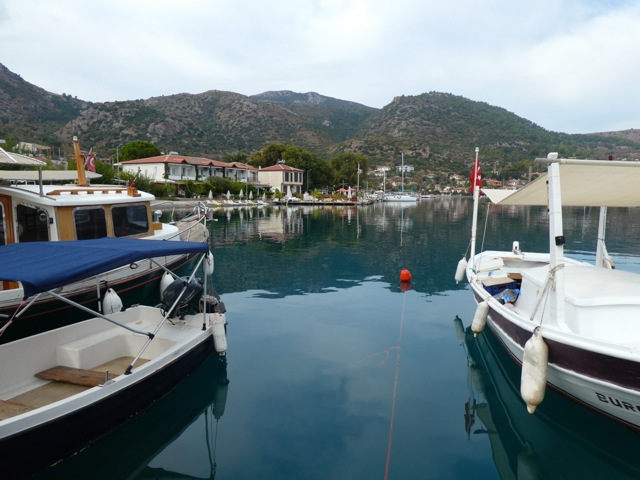 Nowadays, Selimiye is very much a high-end tourist destination, confirmed by the surprisingly international range of products found in the local shops – somehow I doubt if there is much call for packets of profiterole mix amongst the local populace! The safe anchorage of its bay attracts many yachts and motor cruisers, some of which were notably extravagant. There's money in the village, no doubt.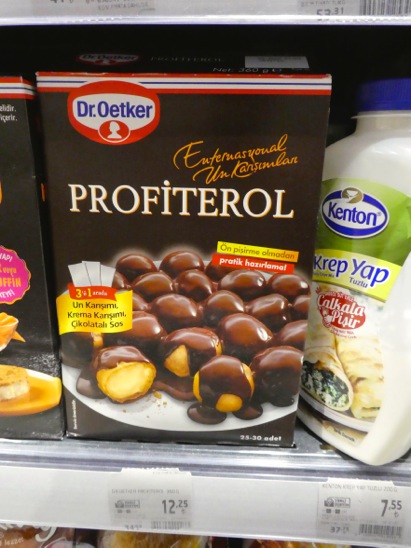 Recommended by friends, we stayed at Jenny's House, a discreet pension hidden from the road by a tall hedge. Our first-floor room was spacious and comfy, with a balcony, en-suite and an amazing wooden panelled ceiling. Often sadly overlooked, I consider ceilings one of the most important features in a guest house, after all, it's usually the first thing you see when you crack an eye open in the morning!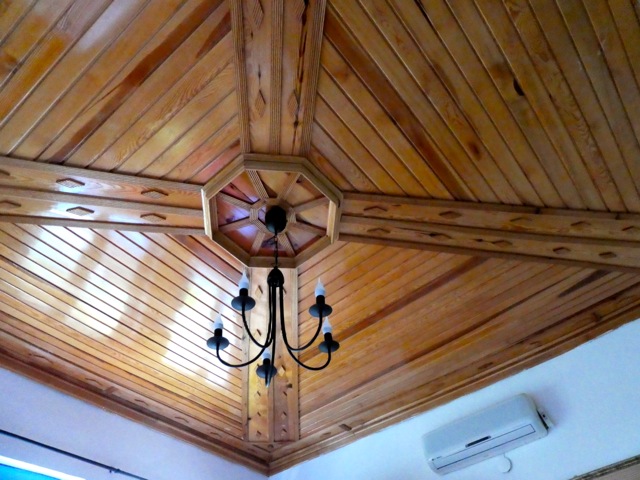 We didn't eat out on our first evening, the inevitable consequence of that generous lunch at Akyaka, but the following morning Jenny provided a hearty Turkish-style breakfast and cooked our eggs herself. We ate in a cool and intimate courtyard well shaded by lots of shrubs and trees, no doubt a blessed relief in high summer. Incidentally, she keeps a few rooms available for guests throughout the winter and only requires a call a few days in advance to make sure everything is shipshape for your arrival.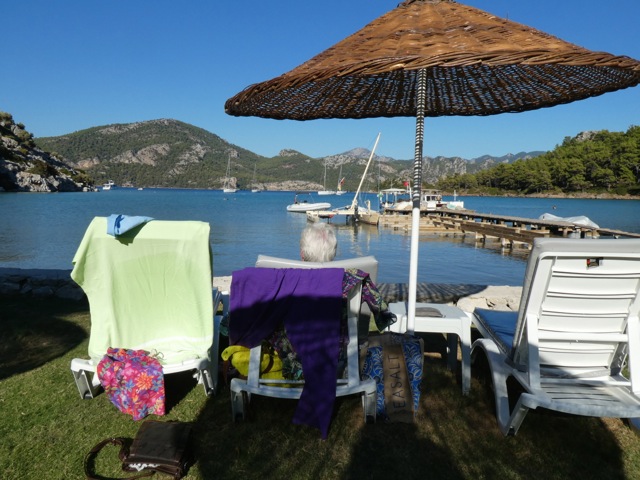 I'm very happy to report we spent the entire day doing two-thirds of bugger all, a pursuit achieved through commendable diligence, and I can tell you without fear of contradiction that neither Jan nor I felt in any way guilty at this accomplishment. We drove through the village to the beach at the very end of road, paid for sunbeds and umbrellas and once settled, did not move except to take one short paddle in a very warm sea – but that's not to say we had a quiet morning.


Back up the beach, a ferocious argument broke out between some local men which waxed and waned in volume and intensity for some considerable time. At one stage, a shovel was waved aggressively and we thought violence was in the offing, but eventually things calmed down and the protagonists stalked off in different directions. Surprisingly lively place, Selimiye. Rather disappointed that the entertainment appeared to be over for the day, we made our way back to Jenny's for afternoon tea, complete with one of her delicious freshly-baked homemade cakes.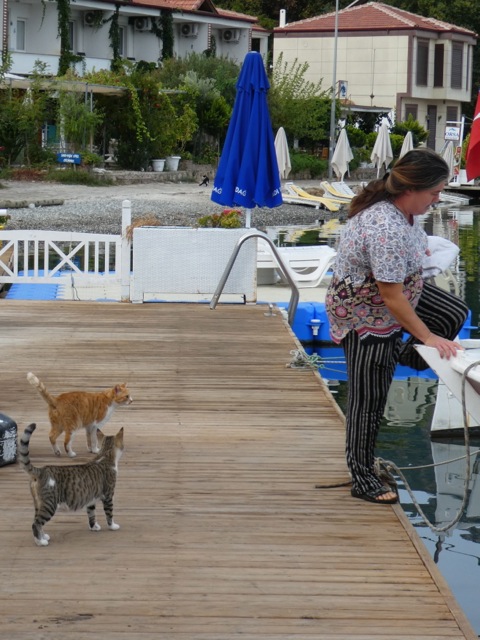 Making an effort to at least go out for the evening, we took a constitutional around the shoreline and enjoyed a glass of white at the local wine bar. The fact that a village as small and rural as Selimiye actually has a wine bar should give you an idea of its customer demographic. Mind you, we were almost certainly their very last customers of the season as they were very definitely shut for the winter when we strolled past the following morning.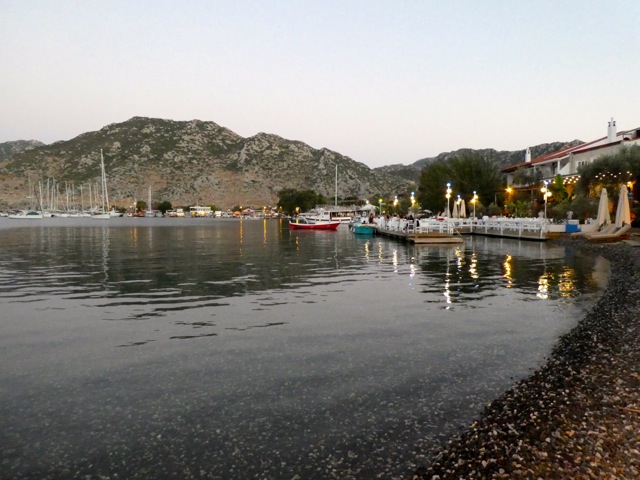 There are any number of sea front restaurants and eateries in the village which cater for all tastes and pockets, many accessed by a narrow promenade pathway that follows the foreshore. Most were already shut, but there were still a few keen to serve late-season customers, and we enjoyed a very pleasant dinner.


We decided to take a boat trip the following day. Jenny pointed us in the direction of a captain who was still sailing, one of just a very limited number who were still operating. We've been on plenty of boat trips from Fethiye and Ölüdeniz and knew what to expect, but to see different scenery was really lovely. The boat was not at all crowded, with perhaps eight or ten passengers, the lunch was delicious and our leisurely course meandered between headlands and islands. I did notice that at no stage on our voyage did we see any open water, such was the sheltering contours of the peninsula, with distant views of the Greek island of Symi. It was a wonderful day out with good food, friendly people and great swimming in crystal clear waters.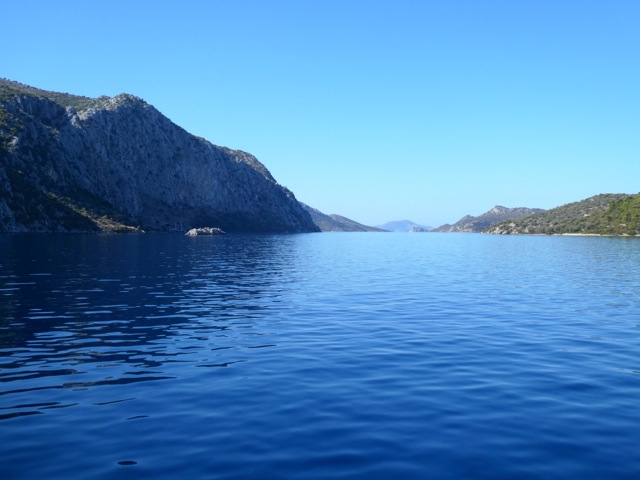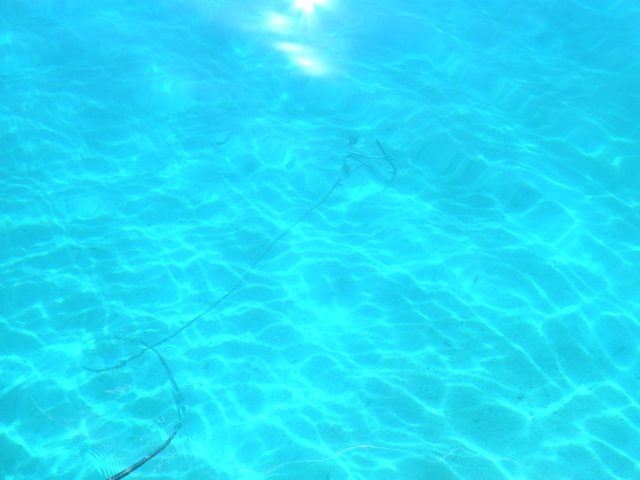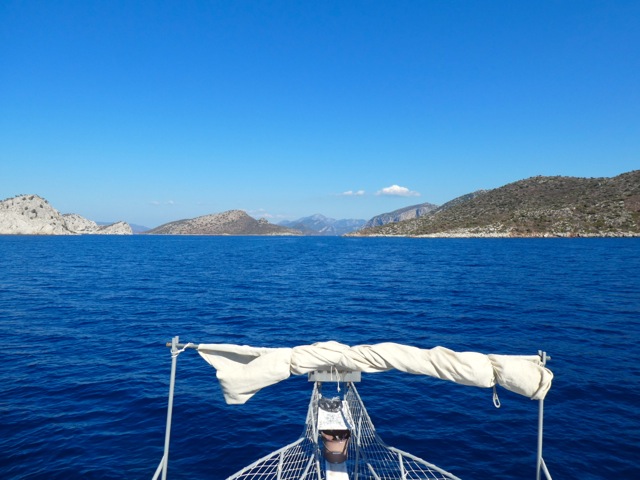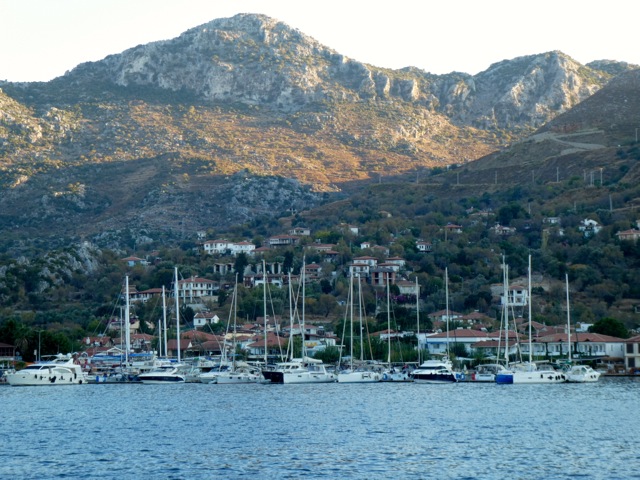 That evening, we took another leisurely stroll around the village but again had no dinner as we were still too full from lunch. Rosemary Conley would be so proud!


Having thoroughly enjoyed our short stay, we departed Selimiye the following morning, retracing our exact outbound route back to Fethiye on the good old D400. Not that we had any choice, of course – it's the only road…


Jenny's House can be contacted at: [email protected]
Telephone: 0252 446 4289 or 0252 446 4158