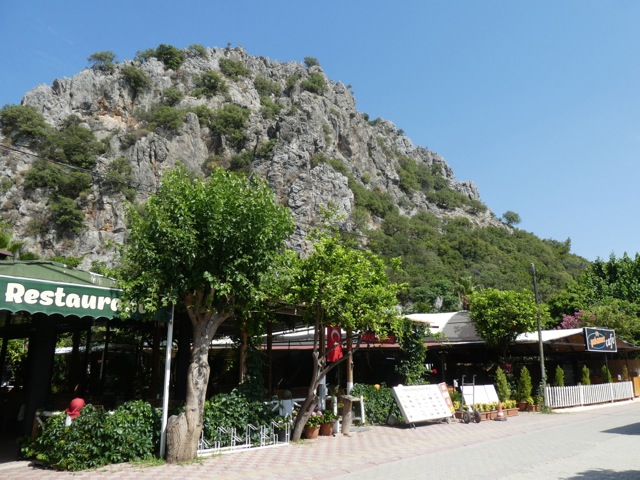 Charming Çıralı – And A Tribute To The D400
Photographs by Mike Vickers
Feature photo above: A sleepy Çirali


Freedom!


With lockdown now over – for the moment – and summer well and truly here, Jan and I decided that although we love Fethiye and its surrounds, it was time to get away for a few days. To go on a road trip. So we did. All in the name of research, of course.

Numerous destinations were discussed – and sometimes there can be too much choice – but we eventually decided to visit Çirali via a scenic mountain route through Seki and Elmali. Small bags were packed, the car had already been hired the week before and filled with diesel. More on that later.

So, a recent Monday morning found us heading out of town on the D400 towards Seydikemer before climbing up into the mountains to Seki and over the glorious Guğubeli pass to Elmali, a really lovely drive at any time of the year. We always prefer to visit Elmali on a Monday as it's market day and the town bustles with activity, but we found the usual town centre market site virtually deserted. There were no stalls, yet we kept spotting locals loaded down with bulging bags of fruit and vegetables. Intrigued, we started walking in the direction they were coming from and discovered the market had been moved to the Otogar. The reason for this became clear very quickly.

Coronavirus has forced changes on us all, and for the good folk of Elmali, the need to minimize risk of infection had compelled the market to move to a site where social distancing, entry and exit could be controlled. The Otogar is fenced, and the council had plugged up any gaps, meaning the only way in was through a temporary plastic tunnel filled with disinfectant mist sprayed at you from all angles. Apparently, Vladimir Putin's got one of these as well. So, in we went and emerged disinfected, slightly damp but piney-fresh. Love it!


Having bought a kilo of big fat ruby-red cherries for the journey, we left Elmali and headed down through the mountains to Finike, a 60 kilometre descent that seriously improved our fuel consumption. More on that later. From Finike, which, by the way, has a magnificent but deserted shoreline, we rejoined the D400 again, drove through Kumluca and on towards Antalya.

It was at this point I started thinking about the D400. This road is Turkey's answer to the A38 in the UK. It's an incredibly useful road that most Turkish drivers, at one time or another, have in all probability driven along. Everyone landing at Dalaman uses this road. I did a little exploring of the D400 on Google Earth (other mapping apps are available). The western end starts the far side of Marmaris in the pretty little town of Datça, one of our favourite places, and finishes near Esendere on the Iranian border, making a total length of 2047km. Going on from there, it's a straight run through to Tehran. Datça to Tehran – now that's quite a road.

The turning to Çirali is well signposted, and when travelling in the direction towards Antalya is about a kilometre further on from the turning to Olimpos. Don't get the two confused. Although you can reach Olimpos by walking along the beach from Çirali, you cannot get from Olimpos to Çirali by road. There's a socking great big cliff in the way. Although both roads run more or less parallel to each other down from the D400 to the sea, they are not actually connected. We discovered that to our cost. These are the levels of dedication we are prepared to show on behalf of all those who may follow in our footsteps.


Çirali is a delightfully welcoming low rise village with plenty of small pensions, apart hotels, bungalows, interesting shops and traditional restaurants lining the road as it runs parallel to the beach, all nestling amongst orange orchards and smallholdings. It's very shady, very rural and very lovely. Almost all the buildings are single-storey and well-hidden amongst the greenery. A long-standing back packers and camping hot spot, Çirali is a quiet, rustic, laid-back, hidden gem and a pleasure to visit. We cruised slowly along the only road checking out numerous pensions before stopping to take our bearings.


 'Hello. Are you looking for a room?' called a voice.
 'Actually, yes we are.'
 'Well, come on in.'

So we did. It was that easy. Halil showed us around The Village Garden, essentially a roadside restaurant with a small number of pension rooms behind. Our room was simple, spotless, spacious and had a very acceptable bathroom, but we always judge our accommodation by the number of coat hangers in the wardrobe. Happy to report there were plenty. Perfect.

An evening stroll re-acquainted us with all the local landmarks. We were last here in 2011, stopping overnight on the way home from a trip to Cappadocia, and were delighted to discover not a lot had changed. There does seem to be a timeless quality about Çirali. The beach is still lined by a row of restaurants set back in the trees and fronted by plenty of sunbeds and umbrellas, free to use if you buy refreshments, but there weren't that many people around because of the effects of coronavirus.


The following day found us sprawled on sunbeds doing nothing. It's not often we have a day of total relaxation, so this was something of a treat. The only physical activities we engaged in were moving the sunbeds to keep them in the shade of the umbrella, a short dip in the sea – well, you have to, don't you – and ordering cold drinks. I did at one stage actually contemplate walking down to the end of the beach to have a look at the ruins of Olimpos, but somehow…


Çirali is the home of the famous Yanartaş, the flaming rocks. Also known as the Chimaera, these natural gas-fed flames have been burning for 2500 years. At night, the glow is visible out to sea and was used in antiquity for navigation by passing sailors.


After paying a modest entrance fee, we strode forth as the sun began to dip behind the mountains, scaling the kilometre-long path up to the Yanartaş. Reaching the Chimaera requires effort. Don't you let anyone tell you otherwise. This path is steep, rock-strewn in places and heavy going, or at least it was for us, with many tall steps and loose surfaces. We met plenty of people coming the other way, which was a bit worrying, but stuck at it, taking plenty of breaks in the sweltering heat, but it was definitely worth all the huffing and puffing. We knew we were close when we spied the ruins of an ancient temple to Hephaestus, the Greek god of blacksmiths and fire. I hope it hadn't been destroyed in a gas explosion! Then the trees parted and it was just us and the flames.

It's an eerie sight!

Surrounded by the forest, the Chimaera is a slope of bare rock about an acre or so in size with bright yellow flames flickering up from numerous vents scattered throughout the site. These flames have been burning for millennia, so it should come as no surprise that the rock here is very warm, too warm for plants to encroach. The gas is essentially methane, which you can detect if have a cautious sniff at the exhaust fumes above the flames – the smell is virtually identical to the emissions from your gas boiler back in the UK. I have done this on your behalf so you don't have to – my lungs are inured having spent decades inhaling leaded petrol fumes, the only long-term side-effect appears to be that I know think everyone looks like Barbara Stanwyck.


So where does this gas originate? Browsing the internet (remember when you had to go to the library to find out anything about anything) introduced me to lots of wonderful sounding phrases like 'this abiogenic gas is produced by low-temperature serpentization in the Tekirova ophiolitic unit' and 'catalytic rare earth element ruthenium is present', but all we really need to know is that the methane does not originate through biological or volcanic processes, is produced naturally at unusually low temperatures and seeps up to the surface through fractures in the rock. The Chimaera is the largest known site on earth where this particular combination of unusual conditions occur and if you really want to see big flames, visit in the winter when the elevated water table pressurizes the gas so the flames are a lot higher.


We had a wander around. Well, I did – Jan sat on a rock and took some photos. It's a fascinating and truly unique place. I have to say that if the Chimaera was in the UK, Health and Safety would have gone apoplectic. Flames? Coming out of the ground? Get those people back to a safe distance! Put those barriers up! Danger, flammable gas! No smoking! Where's the toilet? Fortunately, we're in Turkey. If you happen to fall into a flaming vent then it's your own fault for being clumsy!


By now we were well into the gloaming so as some locals arrived to brew tea and cook their supper in the flames, we headed back down the mountain. Never let anyone tell you it's easier going downhill. It isn't. We used our walking poles extensively as we negotiated the terrible terrain, knees aching. I can't remember it being this arduous when we came 9 years ago! Our progress was, how shall I say, stately. Youngsters who'd we seen arriving back up the mountain as we'd departed had taken all the selfies they needed, done whatever youngsters do on Instagram or WhatsAnApp and now breezed past us, leaping gracefully downhill from rock to rock like mountain goats whilst texting their mates.

The forest closed in for the last couple of hundred yards and it got really dark. We glimpsed lights in the distance through the tree trunks so we knew we were nearly home. I broke out my torch. At that moment, two young Turkish men caught us up and strode past. They whispered to each other, stopped, came back, switched on the torches on their phones and gallantly escorted us for the last stretch back to the guardian's hut. To our surprise and genuine delight, we saw that some of the nimble youngsters who'd passed us on the descent were waiting to make sure we got back safely.

We love this country.


A NOTE ON FUEL CONSUMPTION
Our hire car was a Renault Symbol with a very modest 1.5lt diesel engine. To comply with journalistic impartiality, I am obliged to advise that other hire cars with equally economic engines are also available. We hired the Symbol for two weeks and by the time we set off for Çirali, we'd already been to Dalyan, Kaş and up hill and down dale everywhere in between, covering 600km with absolutely no movement at all on the fuel gauge. By the time we returned from our Çirali trip, we'd clocked up over 1000km and still had more than half a tank remaining. A friend in Kalkan who has an identical car assures us he can get to Istanbul and back on one tank of diesel. Impressed?
First published for Fethiye Times, 23 June 2020