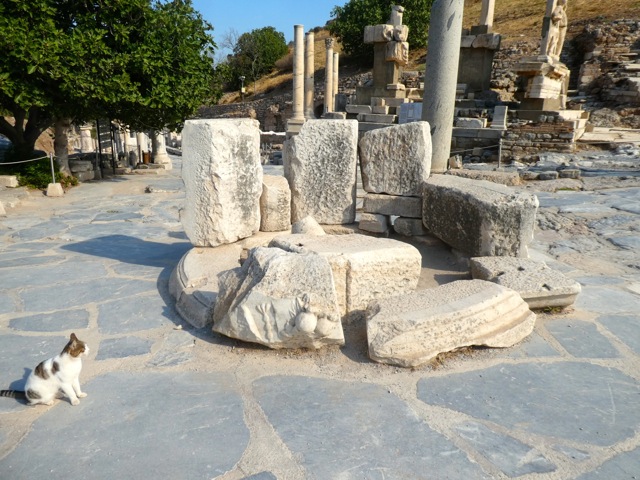 Photographs by Mike Vickers
Feature photo above: Long-time local resident Beryl directing traffic at the world's first ever mini-roundabout in downtown Ephesus


Tuesday morning, and things really didn't get off to a good start! We arrived at Fethiye Otogar with suitcases, cheery smiles and an intention to purchase bus tickets to Selçuk only to discover that this is solely a summer service and due to the downturn in visitors because of the pandemic, had just been cancelled until the beginning of next year's season.


Great. Just dandy.


Fortunately, we have an excellent relationship with our car hire guy and, as usual, he came though, not only popping by to give us a lift back home, but also able to get a serviced and freshly-laundered car to us that evening.


So, on Wednesday morning, we eventually set off, exactly 24 hours later than planned. You'll be relieved to hear the delay didn't eat into my gym time.


We headed north. Nowadays, the route to Selçuk is almost entirely on excellent dual carriageways and, discounting the habitually erratic behaviour of our fellow drivers, really rather enjoyable. We had breakfast at a roadside lokanta in Beyobası before tackling the big zig-zag hill up to Muğla, then on through Yatağan and Çine. We bypassed Aydin by taking a rural detour across the utterly flat Meander valley through colourful fields of snowflake-white cotton plants alternating with gorgeous golden sunflowers and tall marching soldiers of gleaming green sweetcorn. Now that was a colourful drive.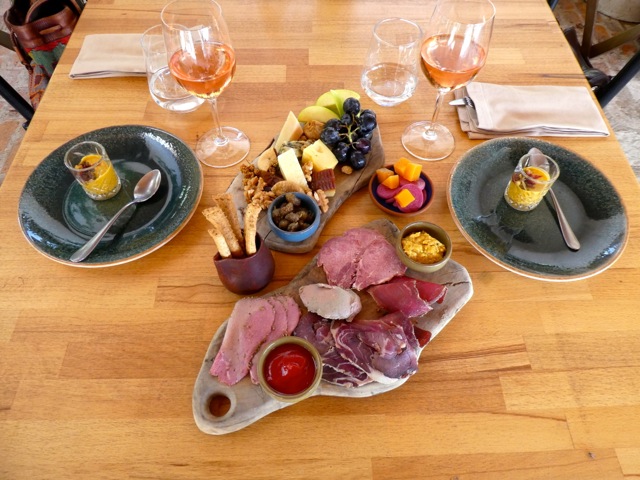 Jan had done her homework with her usual thoroughness and we stopped for lunch at Çiy Restaurant at the Vinifera Yedibilgeler winery and restaurant. Located just outside Çamlik on the main road to the south of Selçuk, this beautiful winery is set amongst rolling fields of vines. We shared cheese and cold meat platters, plus pudding, enjoying our delicious meal to the comforting sound of a gently snoring dog fast asleep behind a nearby planter. Çiy is a classy place, no doubt, and with prices to match, but the platters were exquisite to both eye and palate and the desserts so naughty they were almost illegal – and quite right, too!


We arrived in Selçuk with nothing booked, but an investigation of the old town revealed there was no shortage of small hotels and we settled on the Amazon Petite Palace. Welcomed by Emre, this cosy pension comprised several buildings huddled around a secluded courtyard containing a small plunge pool. Our room was spacious, simple, clean and within our price range. Perfect.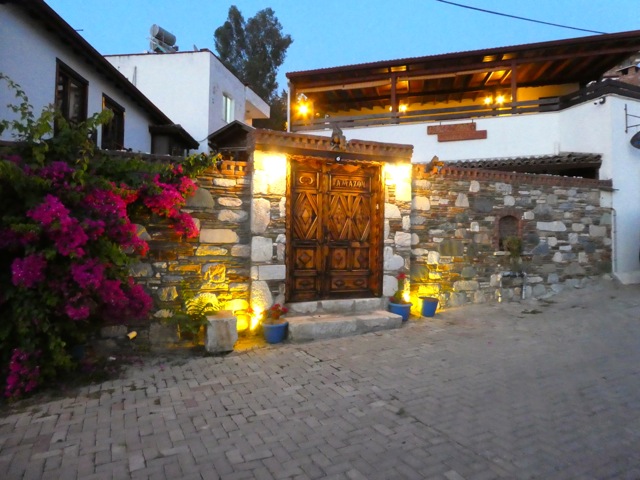 We immediately bumped into our neighbours, a charming group from Belgium who spoke excellent English. Their first comment was, 'Isn't the driving awful!' This initiated a moment of reflection. Having just endured a journey of nearly 300 km on roads where scooter riders repeatedly attempted to launch themselves over our bonnet – whilst still texting – and where almost all other drivers were speeding while talking on their phones and completely ignoring red traffic lights at the same time as executing bizarre, unpredictable and dangerous manoeuvres with no signalling and an absolute disregard for the safety of others, we observed we hadn't really noticed anything different from usual. Come on, guys, show some backbone!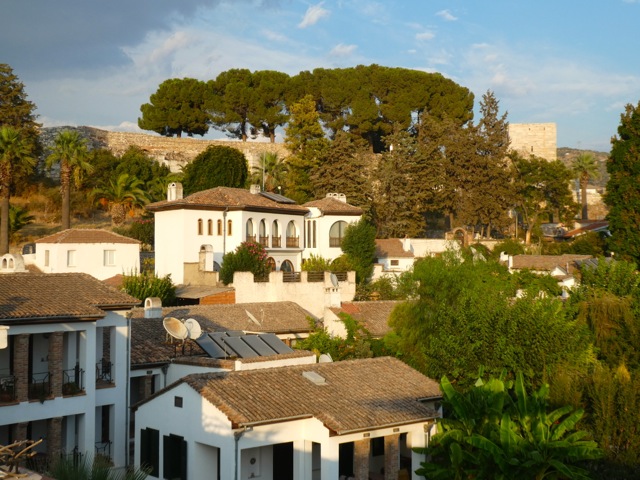 Our first exploratory walk was through the really lovely but hilly old quarter, with narrow streets and lots of Greek influenced stone buildings. Using our special super powers, we quickly homed in on an excellent ice coffee before moving on for a sundowner gin and tonic up on a rooftop terrace overlooking town, the splendid İsa Bey Camii and the walls of St John's Basilica. There's no shortage of history in Selçuk, that's for sure. Returning to the Amazon, we watched the sun set in all its glowing glory sitting on the breakfast terrace. By the way, in this case "Amazon" has absolutely nothing to do with the spectacularly avaricious Jeff Bezos and his tentacular empire, but more to do with the Trojan Wars, where it is believed female Amazon warriors fought against the Greeks in the defence of the city. That happened nearly 3300 years ago and we're still talking about it, so do you honestly think anyone will remember the other Amazon 3300 years into the future? On that disappointing note for eager young Jeffrey, I took to my bed.


Thursday turned out to be a lovely cool day, a little cloudy and perfect for exploring Ephesus. We drove to the South Entrance and entered for free, courtesy of our Müze Karts. It was good to be back. We last visited in November 2005 and I can honestly say the place is unchanged. Unsurprising, really, when you consider its immense age. Ephesus, to me, has to be one of the great archaeological sites of the classic world. I won't dwell at all on its history as there is already a vast amount of information available elsewhere, so instead let me tell you about our personal impressions.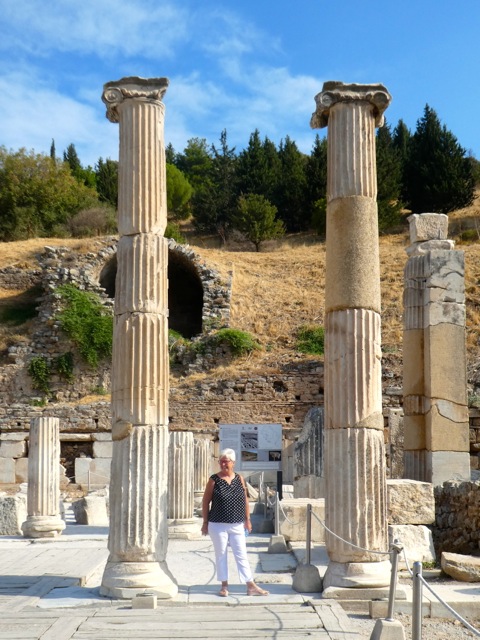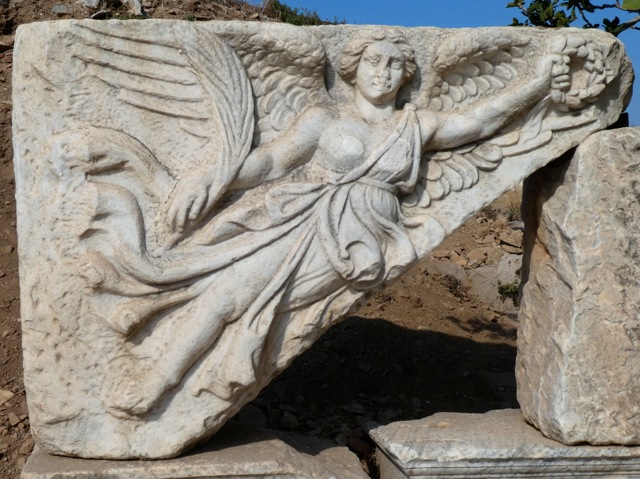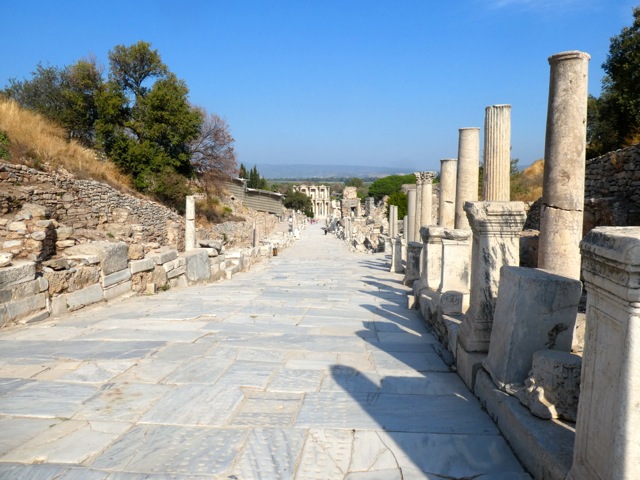 As we'd experienced before on our first visit, because of its size the place felt virtually empty. There were a few people around, but they soon dispersed. I can't imagine how degraded the experience would be during a really busy day at the height of the season, when cruise ships dock at nearby Kuşadası and disgorge untold numbers of visitors. We strolled down Curetes Street, the main route through the site, and stopped at our leisure to examine temples, monuments and, best of all, the public latrines. Sadly, unlike on our previous trip, nobody's allowed to sit on the stone thrones any more, which is a shame as they're thoughtfully chamfered to eliminate any sharp edges from scratching your delicate lily-white tushy.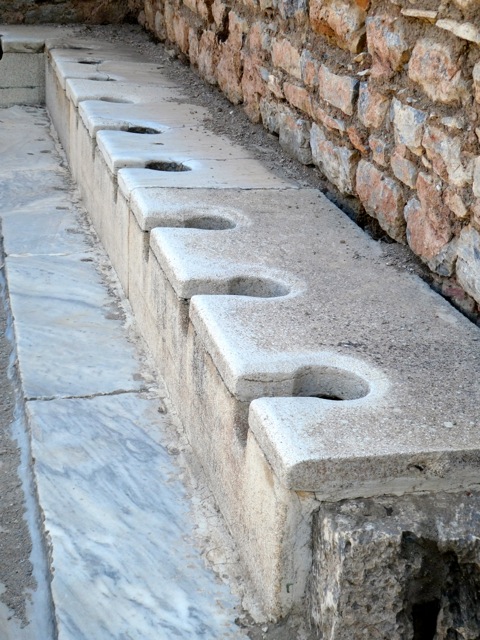 Surprisingly, Ephesus is also full of cats. They're all over the place, enjoy sleeping in the shade and being petted by the visitors. No doubt they have a union that negotiates feeding rights on their behalf. I easily have enough feline photos for an album. Maybe I'll give them names, maybe even a back story of love, intrigue, betrayal and indiscriminate spraying amongst the ancient stones.


We stood in front of the Library of Celsus, waiting for just a minute or so for a few people to disperse so in the photos it looks completely deserted, then wandered on through the agora to the truly gigantic amphitheatre, currently undergoing renovation to the top tier of seats courtesy of a huge tower crane. With a capacity of 25,000, this theatre is believed to be the biggest in the ancient world. I can believe it!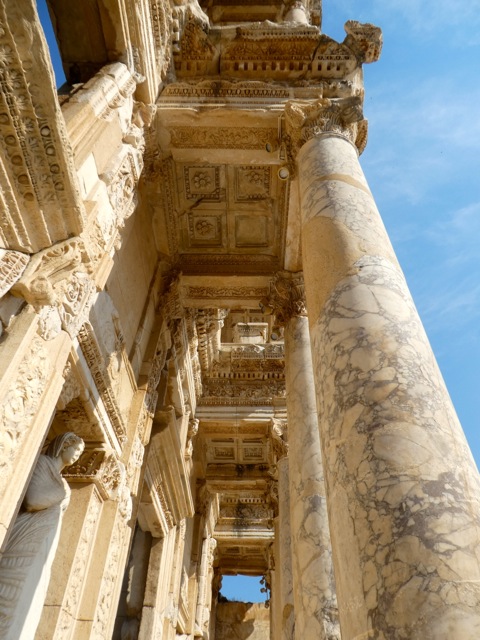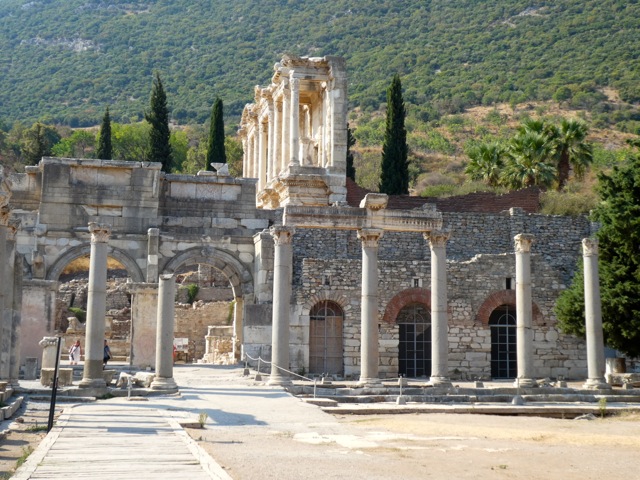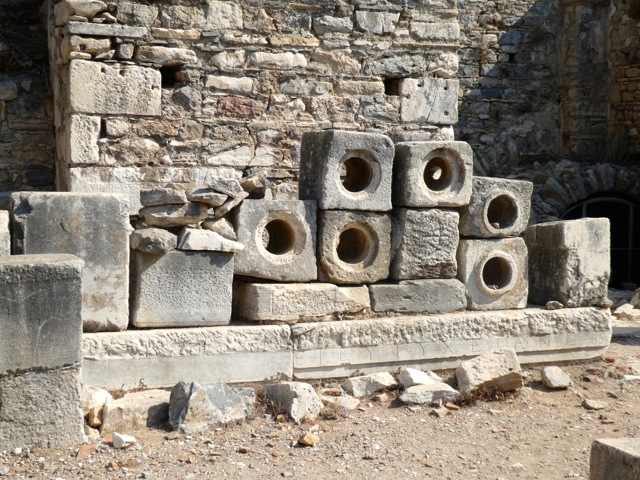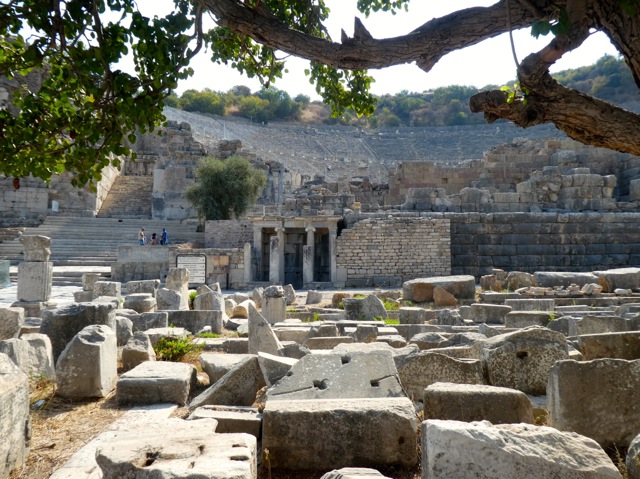 The North Entrance to the site is adjacent to the theatre. We stopped for a restorative coffee, then girded our loins and walked back up Curetes Street to the South entrance again, moving against the steady flow of visitors, now greatly increased in numbers. Tip: if you're going to visit, make it as early in the morning as possible to avoid any crowds.


Our day turned out to be devoted to history and on returning to Selçuk, we visited the İsa Bey Camii. Built in 1374 and with a lovely spacious interior, this is an unusual double domed mosque blessed with a peaceful enclosed courtyard garden. Above the mosque is the ruin of the Basilica of St. John the Apostle. Built over the site of his grave by Justinian in the 6th century, it was once a splendid monument to the youngest of the Twelve. I did say Selçuk is packed with history!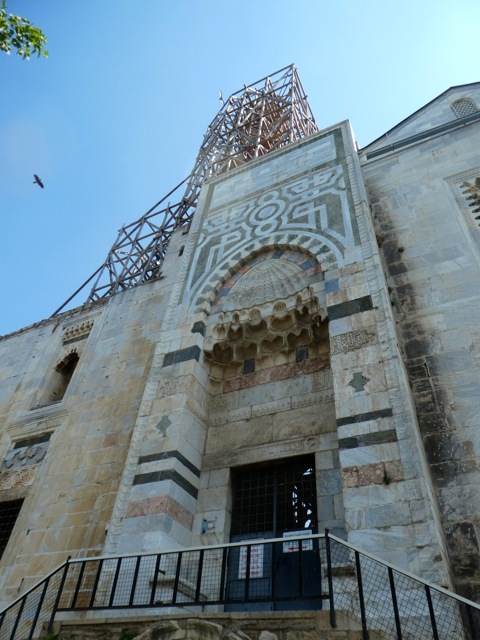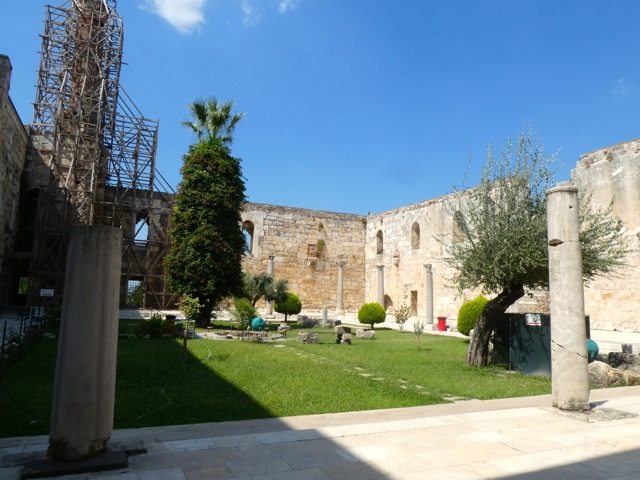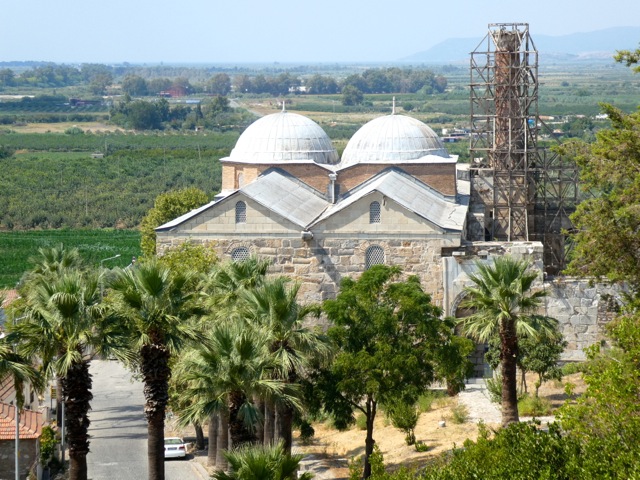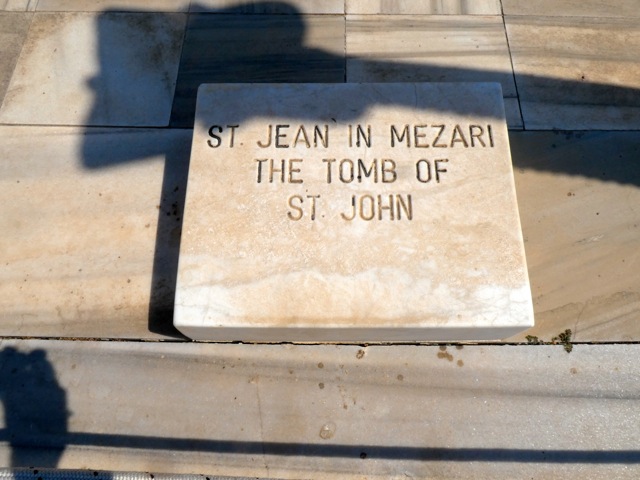 Beyond the basilica and at the summit of the hill is the Ayasuluk Citadel, a Byzantine fortress commanding expansive views in all directions. Having got all hot and bothered wandering around, we had a cup of tea, then walked down into town, crossing the busy dual carriageway that cleaves Selçuk in two.


This is the new part of town, with pedestrianized streets containing the usual mixture of shops, banks and restaurants. We wandered into the town square adjacent to the train station and there it was – the ruined ancient aqueduct that once brought water to the nearby Basilica. That line of tall stone columns marching across the square and topped with the occasional stork's nest is the sole thing I recall of Selçuk from our previous visit 16 years ago. Hey, come on, give me a break – it was a long time ago. At least I had hair back then!


After lunch at a restaurant that had two attempts at cooking chicken properly and still failed, very much an unusual occurrence in Turkey, we went off to the museum leaving some local cats to vacuum up the still partially raw meat. Do cats get salmonella? Hope not.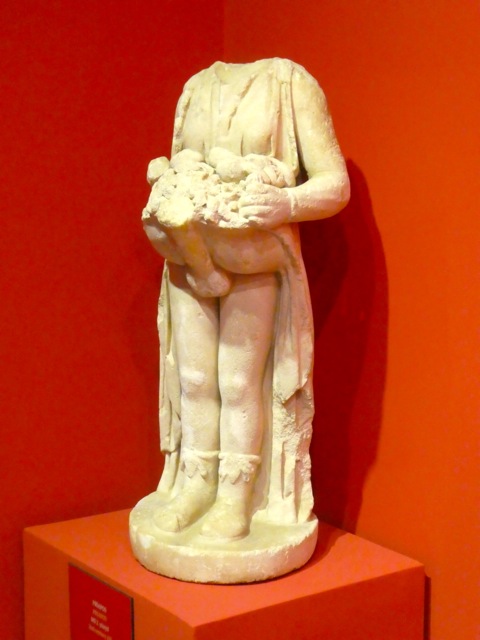 The Ephesus Müze houses many of the finds from the nearby ancient city and is a fascinating treasure trove of artefacts, glassware, pots, jewellery and friezes. We also cast an eye over the obligatory fully erect big willy statues. In my opinion, these unfeasibly turgid and jaunty peckers were the real reason why men wore togas and not trousers back in the day. However, not to be outdone, the ladies are represented by two stunning statues of multiple-breasted Artemis. Now there's a girl whose going to have difficulty finding a comfortable bra!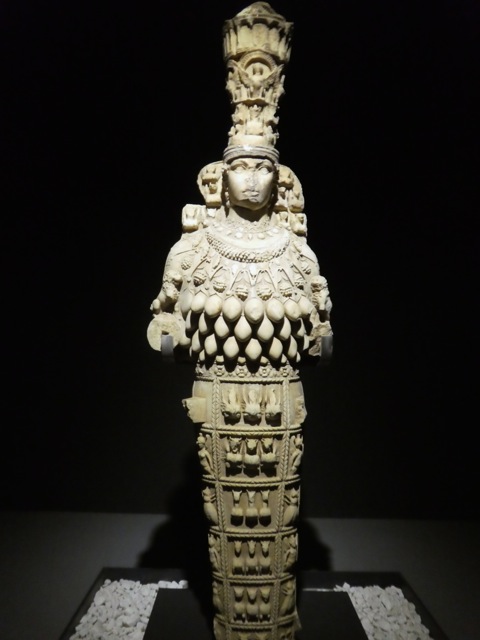 Journalistic impartiality compels me to mention that some academics suggest these multiple pendulous chesty protuberances, all devoid of nipples, might actually represent bull testicles, after all, bulls were sacrificed as symbols of fertility back then, but whether you choose balls or boobs, the girl's definitely got a-plenty.


After a full day delving into the classical past and eyeballing some pretty impressive knobs and knockers at the museum, we rested until early evening, then went in search of a meal that wouldn't result in an extended stay in hospital, wandering at that wonderfully gentle pace we all employ when time is not really of any importance at all. This quality ambling eventually brought us to a local pide restaurant. It was full. Excellent. That means the food's good. Wherever you are in the world, always look out for places the locals eat and you rarely go wrong.


The Selçuk Pidecisi brought us some really delicious lahmacun, served with salad, ayran, soda water and tea, all for just 35 lira for the both of us, including a tip. Plus, we also got a free tahini pide thrown in for dessert. For comparative purposes, the lunch we had at Çiy was eleven times more expensive, yet you might be surprised to hear we enjoyed both meals equally.


Friday morning dawned bright and sunny, but to be honest that's not exactly uncommon in Turkey at this time of year. Having spent yesterday in the local area, we now headed further afield and set off up the coast road with distant views of the Greek island of Samos. Our first stop was Özdere, with its lovely seaside promenade.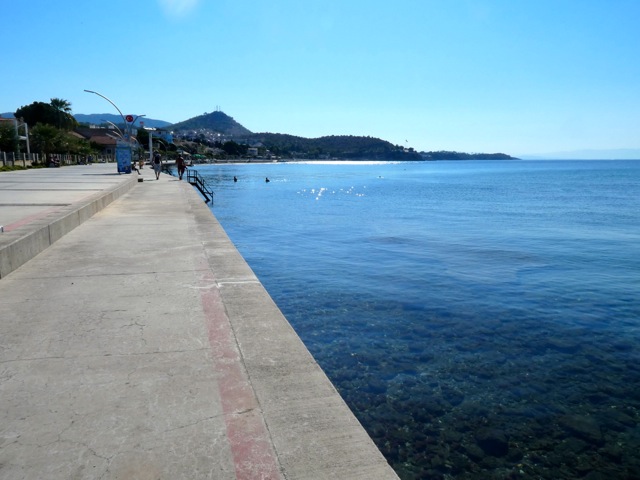 We didn't walk along the entire length of the bay, but most of what we did see was fronted by private houses with gardens that opened directly onto the prom. This creates a totally different environment from a more normal resort. There were, for instance, only a smattering of small hotels and definitely no restaurants, cafes, bars, Migros stores, amusement arcades, estate agents, water parks, clubs, cocktail bars, souvenir and hat shops, jewellers, travel agents, estate agents and estate agents along the seafront. Yes, I realise I've mentioned estate agents more than once…


We actually found this rather lovely and a refreshing change from the overt commerciality of Fethiye and its surrounding environs. However, we did call in to one of a very few hotels on the seafront for a çay. Priced at 10 lira for two small glasses – which, by the way, we actually had to pour ourselves – Özdere may have been peaceful but it definitely trumps Fethiye for extortionate prices.


Leaving Özdere, we carried on along a superb dual carriageway that always seemed to keep the sea in view. Turning off this road at Seferihisar, we finally reached our destination, the little town of Siğacik. After parking near the marina, we stopped for a post-journey coffee. Jan ordered two iced frappuccinos. When they came, they were by far the hottest frappuccinos we've ever had! A closer examination revealed a teeny tiny communication error – our frappuccinos had morphed into cappuccinos!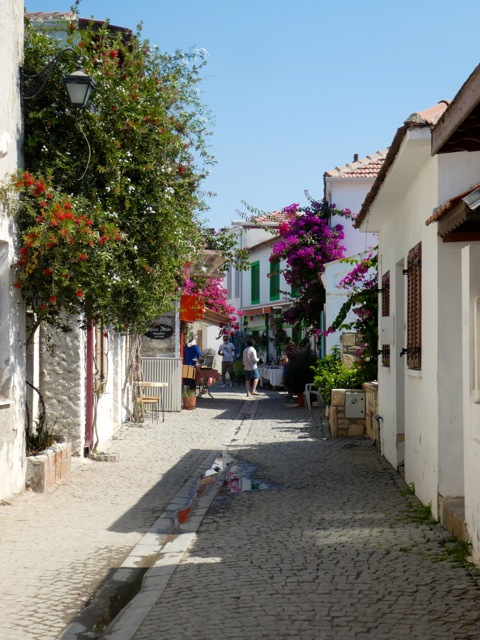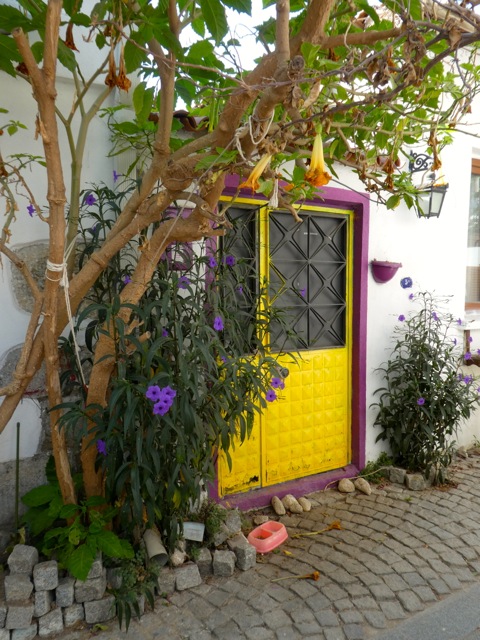 I thought Siğacik initially seemed a something and nothing sort of place. The packed marina was very modern and obviously exclusive, while the rest of town appeared to be a typically modern jumble of Turkish art-concrete, but then we stumbled across the ruined 16th century triangular castle and behind its landward wall, a wonderful maze of colourful narrow streets, the houses dripping with bougainvillea and clad with brightly-painted wooden shutters. Open doorways revealed the lush secret gardens of boutique hotels, tiny shops sold all manner of gifts and souvenirs, while cafes and restaurants specialised in mezes and borek, their chairs and tables spilling out into the narrow alleyways. Both Jan and I found navigating this rabbit warren of shady streets an absolute delight.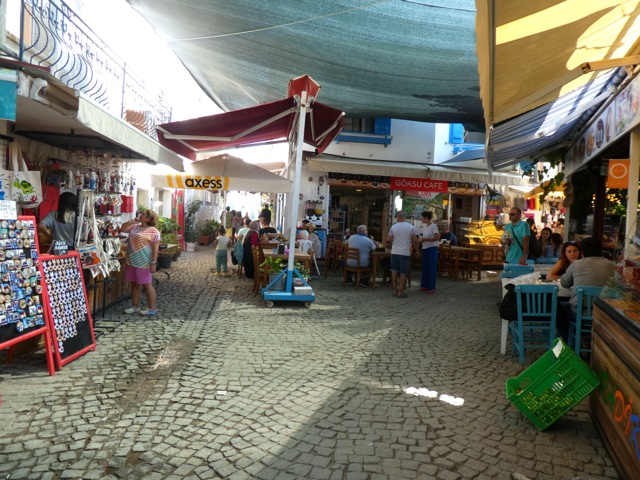 Leaving Siğacik behind, we retraced our steps – there's only one road so you really had no option – and returned to Selçuk just in time to enjoy a late lunch at Selçuk Pidecisi, our new eatery of choice.

Selçuk at night is lovely. The Ayasuluk Hill, the old quarter of town where we were staying, is quiet – and full of cats – making the meandering narrow streets a real pleasure to explore at your leisure, whereas the modern pedestrianised town centre bustles with life as locals promenade in the cool evening air, engage in a spot of shopping or meet friends and family for a bite to eat. These two halves are separated by the busy dual carriageway, the road marking a very definite physical boundary between old and new. We had the citadel and tomb of St John on our side, but if you want to buy shoes or catch a train to Izmir, then you need to walk across the footbridge to the modern side. Selçuk is most certainly a town of two distinct halves. We liked it very much.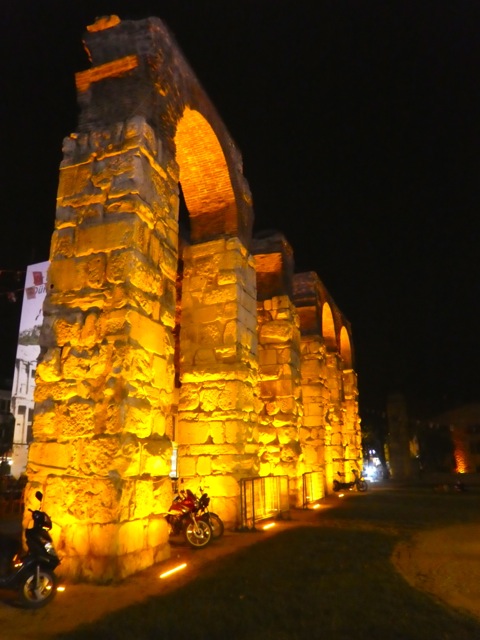 Saturday morning, and it was time to say goodbye to Emre and the lovely Belgians, who advised us the weekly market in town was well worth visiting, so we checked it out – and they were right. We reckoned this sprawling market is larger than Fethiye's and is located in and around a purpose built set of pedestrian streets behind the Otogar. It was busy, of course, and sold all manner of wonderful things, including lots of agricultural goods and tools I've not seen in Fethiye, and definitely much more cheese as well.


Now, please bear with me for a moment. I've never seen any of the original Seven Wonders of the Ancient World. I've been to Rhodes, but the Colossus who once bestrode its harbour was toppled by an earthquake long ago. Jan's seen the pyramids, but I haven't. The Pharos lighthouse of Alexandria is now a submerged pile of rubble and the Hanging Gardens of Babylon are quite possibly mythical, but if they were real then they'd be in Iraq and I ain't daft enough to go there. The statue of Zeus at Olympia is no more and King Mausolus's – er, mausoleum – at Bodrum has been all but destroyed. That just leaves the Temple of Artemis – and to my delight, I discovered that it's actually located less than a kilometre from our home for the last three nights, the more modest but still intact Amazon Petite Palace.


So, on leaving town, we popped in for a peek and discovered not much now remains after repeated attacks by raiding parties of hirsute uncoiffed Goths and intransigently vindictive early Christians. This huge temple once dazzled all those who visited, but nowadays all that remains is a vague shape of its foundations and just one column – crowned inevitably by a stork's nest – but think of the history! That depleted collection of random stones scattered about the site was once one of the greatest buildings of the ancient world.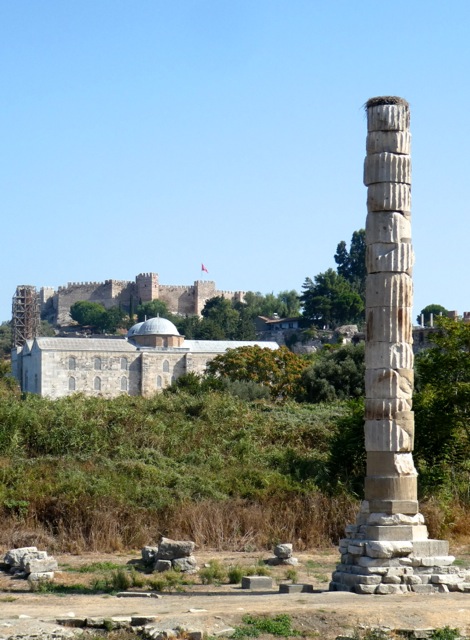 We left the Artemesium behind and took the road home, driving through Kuşadası (huge, sprawling tourist town with raggedy edges populated by multitudes of bland tower blocks), then Söke (huge non-tourist town with slightly more pleasant tower blocks), Milas (not quite so sprawling and with strikingly modern street lamps) and Yatağan (nearby open cast mines with enormous conveyor belts taking coal to the brutally functional triple chimney grubby power station that over the years has reputedly led to the early deaths of over 40,000 local people from pollution). Unsurprisingly, we didn't stop in any of those places.


On the bright side, the countryside in between was beautiful, varied and colourful. We also shared a giggle while passing along the shores of gorgeous Lake Bafa, now forever renamed by Jan: 'And the prize for best lake goes to – Lake BAFTA!'


There's no doubt Selçuk is a lovely and interesting place – and yes, I think we can all agree it is packed with history. Not only is there Ephesus, the grave of St John the Apostle, a very fine ancient twin-dome mosque and an imposing Byzantine castle, but also one of the Seven Wonders of the World – and let's not forget, to top it all off, a really cracking pide restaurant!


Yeah, we had a great time.


To enquire about a stay at the Amazon Petite Palace, phone Emre on 0232 892 3231


Finally: If you are planning a visit to Selçuk to check out its extraordinary rich heritage, best get yourself a Müze Kart. We bought ours at Hieropolis in Pamukkale and paid 60tl each (2021 price). These cards last a year and allow free access to all the ancient sites and museums in Turkey – and believe me, there are a lot. We flashed our cards and strolled into Ephesus, normally 120tl entry fee per person, into St John's Basilica and the adjacent Ayasuluk Citadel in Selçuk, 10tl entry fee pp, and into the Ephesus museum, 25tl entry fee pp. Without the cards, those visits would have cost us a total of 310tl. That's a lot of money. If you think it isn't, then you can give me 310tl the next time we meet!