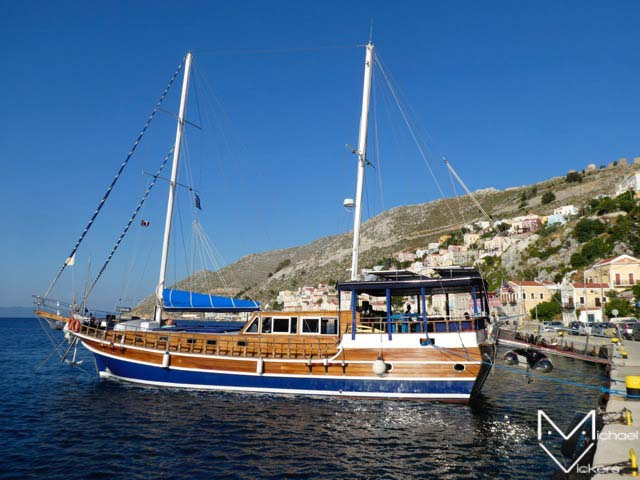 To Rhodes And Symi By Gulet
Photographs by Mike Vickers
Feature photo above: Arkadaşlik moored in Symi harbour.


The easing of border restrictions has once again allowed visitors from Turkey to visit Greece, and one of the best and most pleasurable ways to accomplish this is by gulet. For those of you who might wonder what a gulet is, it's a traditionally designed Turkish wooden sailing vessel, suitable for ranging up and down the coast, but also perfectly capable of open water voyages to the nearer Greek islands, in this particular case, Rhodes and Symi.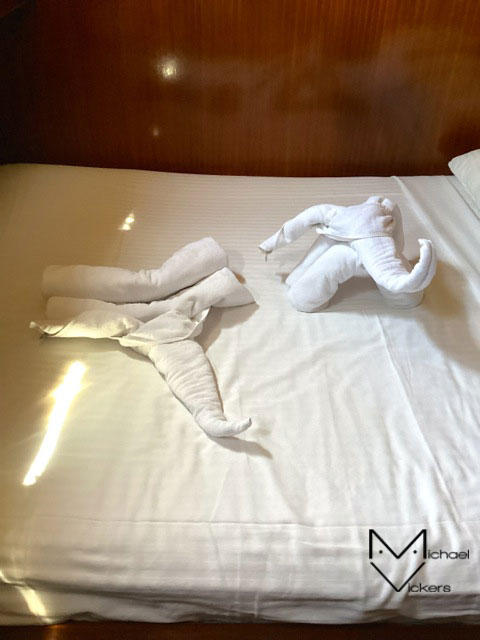 You may recall we went on a gulet cruise last summer down the coast to Kekova and back on Arkadaşlik, Sue and Captain Oktay's boat. My article, Get Away On A Gulet, is an account of this previous trip and I have to say we enjoyed it so much we thought we'd try another route. Our friends, Deb and Rich, flew over from the UK to visit us, the first to do so since we came out to Turkey in 2019 courtesy of the pandemic, and not only was that a real treat in itself, but they also joined us for the cruise.


On the morning of departure, we met up at Fethiye harbour with Sue and Oktay to go through passport control to formally leave Turkey, along with Charles and Shirley, the other two passengers who were joining us onboard. Arkadaşlik is equipped with just four guest cabins, each with an en-suite bathroom. With the fourth cabin unoccupied, there were just the six of us on board, along with Sue, Oktay, Murat the sailor and Ozan the chef, who we both met on our previous cruise.


With the formalities complete, we boarded and cruised over to Ağa Limani, a small bay at the far end of Fethiye Gulf and the perfect place to set off early the following morning for the open water crossing to Rhodes.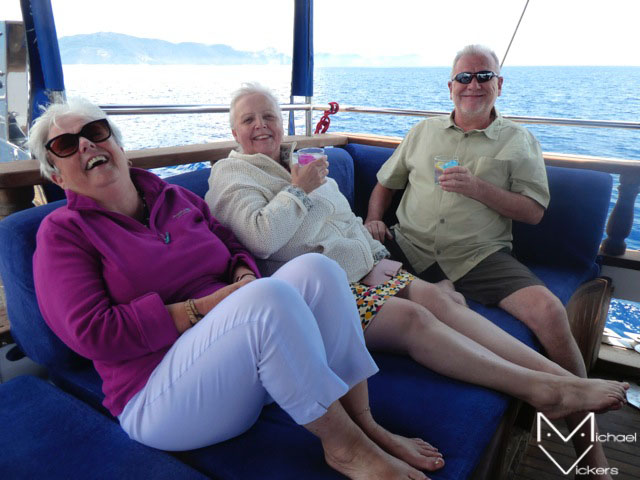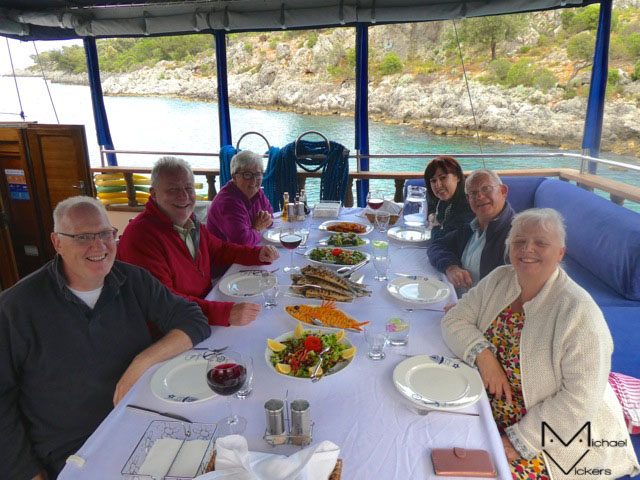 That was the idea, but things sometimes have a way of not working out to plan, and an evening inspection of the engine revealed a potential problem with the diesel injector pump. Not wishing to risk the crossing, Oktay took us back to Fethiye the next morning for a further investigation, at which point we all met the irrepressibly cheerful Duran, the man who can fix anything.


Unfortunately, on this rare occasion, his consummate skills were defeated so that evening the pump was packed up and placed on the overnight coach to Ankara. The pump was repaired the following day by specialists in the capital before returning that evening on the overnight coach back to Fethiye. I love the way buses and coaches are used to transport goods around the country. Well, why not? The buses are going anyway so they might as well be utilized to the full, yet I've never seen any money change hands for this service. Can't see Stagecoach signing up for that one, can you?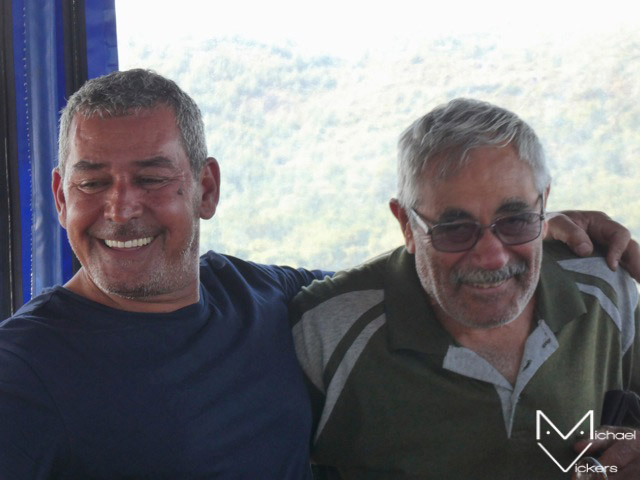 This unfortunate delay meant that, while Charles and Shirley stayed on board, we could return to our home, allowing us to relax and for Rich and Deb to enjoy Fethiye for a few days before we rejoined the boat.


Anyway, to cut a long story short, Duran refitted the renovated pump – which at this juncture had now travelled 1500km more than we had – and once the engine rumbled into life, cheered by all, we set off once again. Oktay proudly demonstrated its extra power, opening her up until we exceeded 8 knots, a velocity rarely attained without sail assistance, and do you know, that eager little engine ran a smooth as silk for the entire voyage.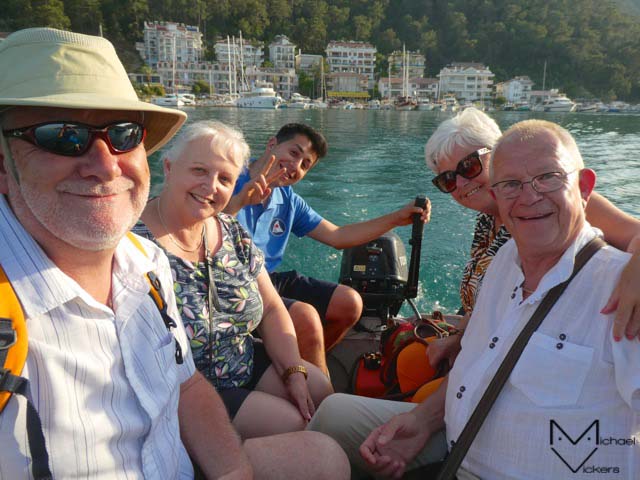 So, we arrived in Rhodes a few days later than planned, but that certainly did not detract from our holiday in any way. In fact, I'd go as far as to say we'd all bonded over the broken pump and had an absolute ball for the rest of the cruise.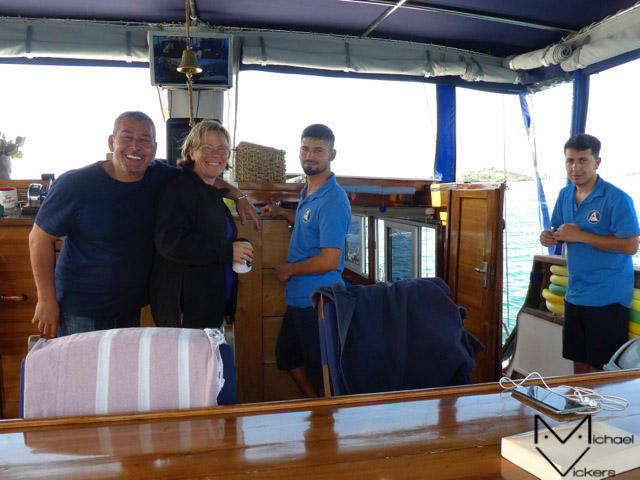 Rhodes Old Town is a medieval masterpiece of wonderful buildings and narrow alleyways that just cry out for exploration. So we did, ambling along in that very relaxed way we all only reserve for our holidays. We shopped, we had lunch, we consumed ice cream, the three core activities that define a proper holiday. The town was bustling with happy tourists, mostly American. I suspect this had something to do with the biggest cruise ship I've ever seen in my life parked in the harbour.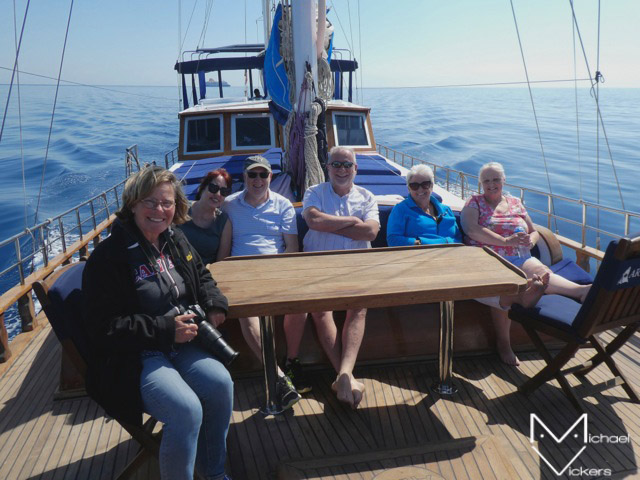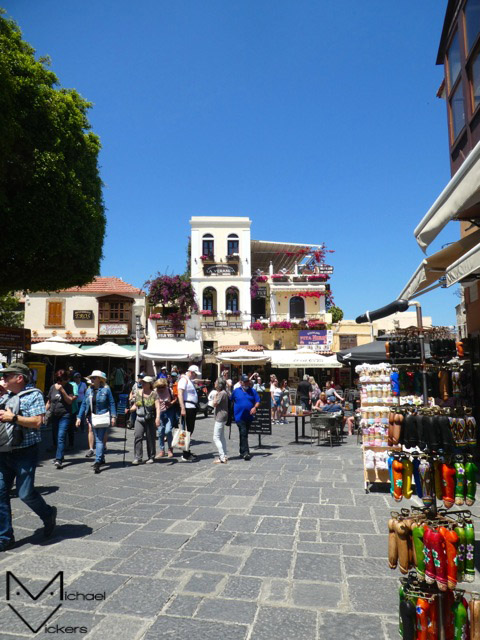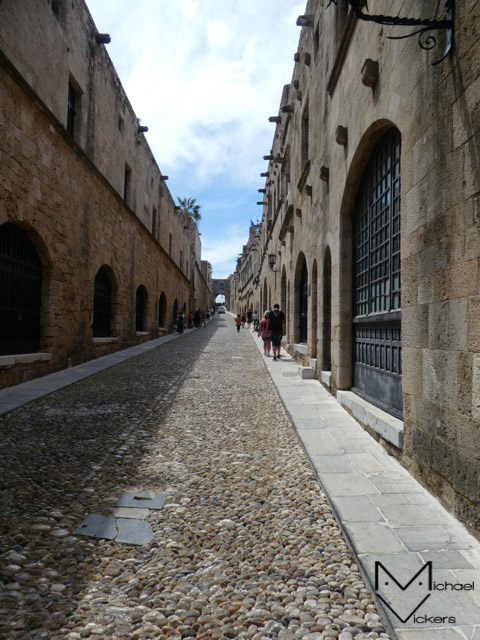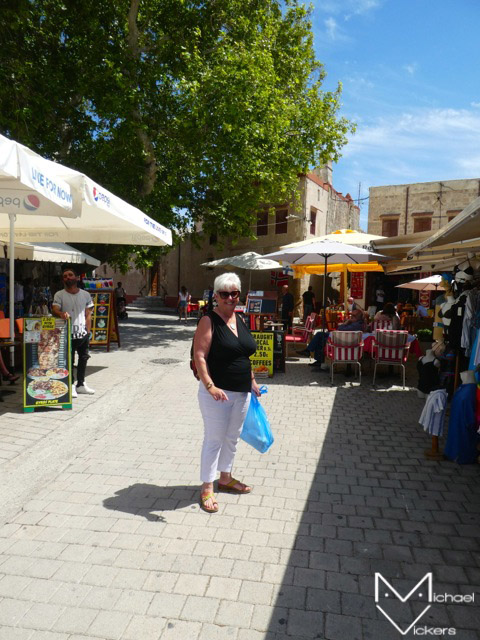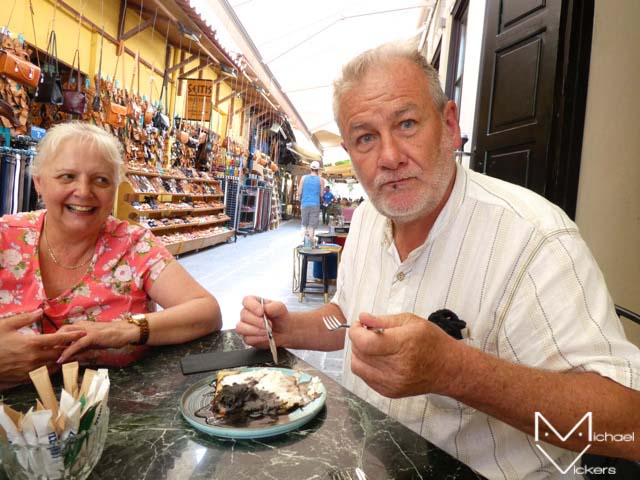 That night, accompanied by Sue and Oktay, plus young Murat and Ozan, we had a splendid and very lively meal at Mama Sophia's restaurant in the Old Town. The gin and ouzo flowed, as did the food, including octopus, mussels, clams, oysters, calamari, meatballs and a whole host of delicious vegetable mezes. Quite a night! Good job it was a downhill stroll back to the taxi rank. Good job Jan was there to give me a helping hand. Good job I was also wearing my magic homing shoes!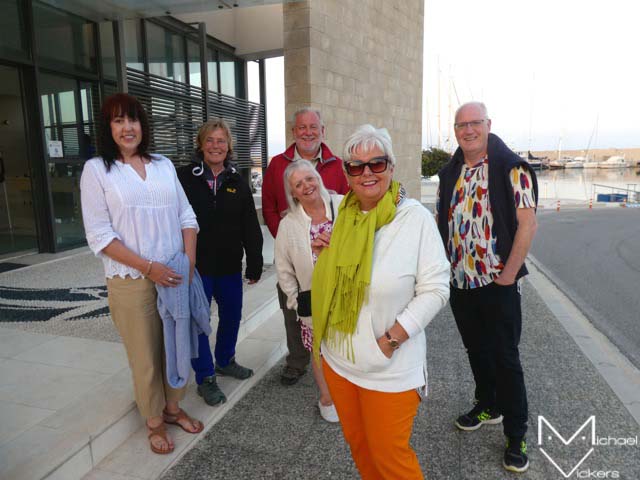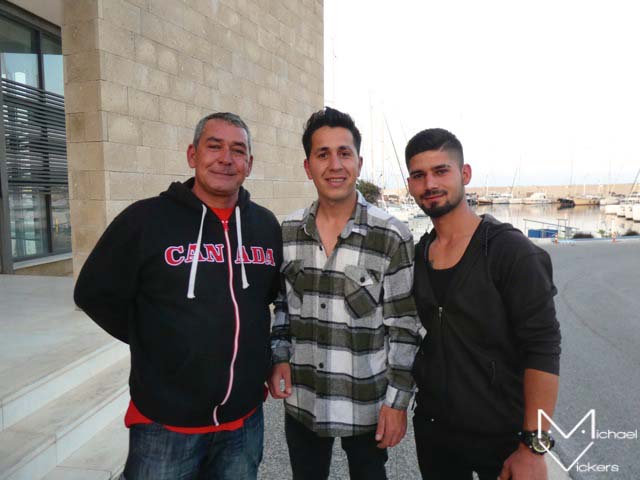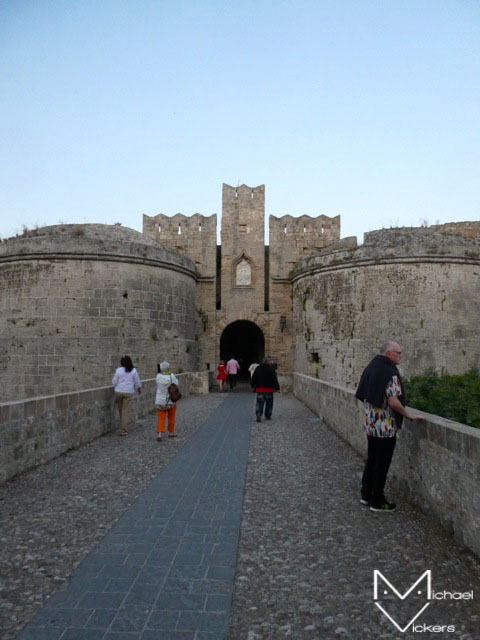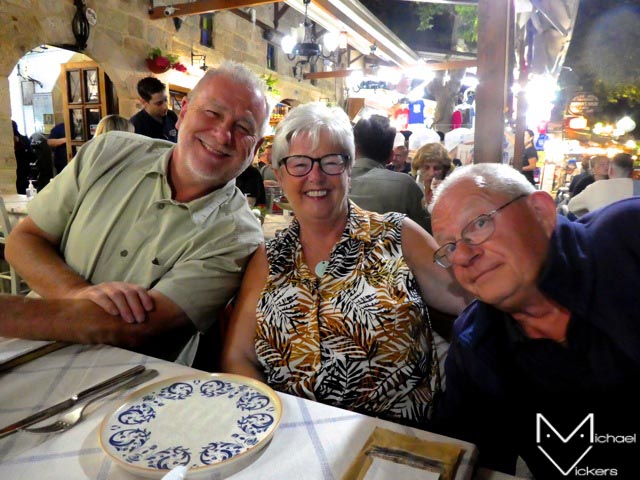 Murat, in particular, was tremendously excited. Having just received his first passport and seaman's papers, this was his first trip abroad and, being nineteen, he was eager to see if Greek girls were any different to Turkish girls.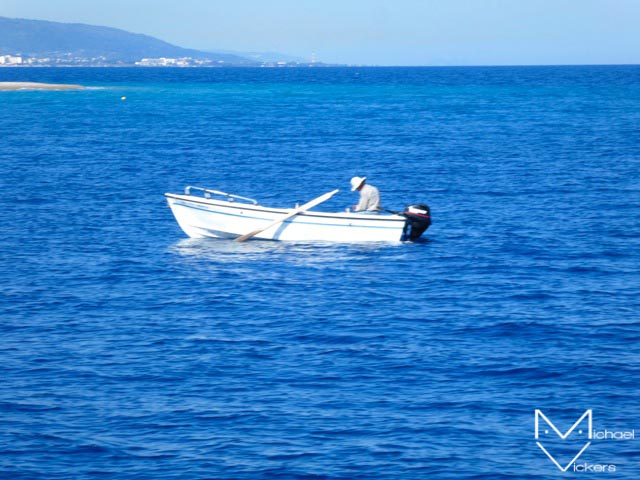 Rhodes was just fabulous and the following bright and blowy morning saw us heading off to Symi, a beautiful island almost entirely embraced by the convoluted coastline of the Datça peninsula. We've been only once before and know it to be as pretty as a picture, the archetypal Greek island.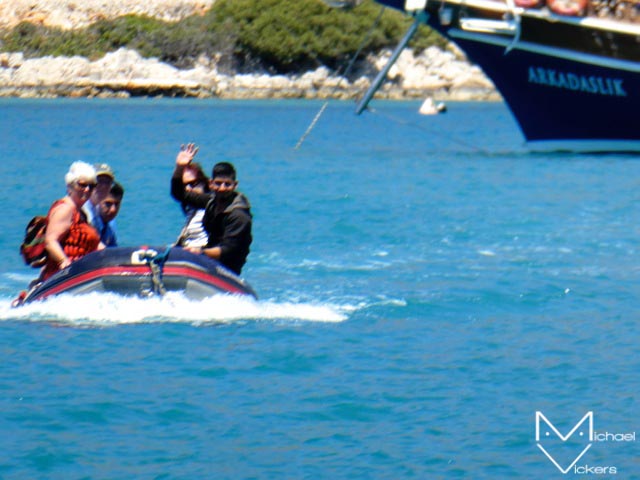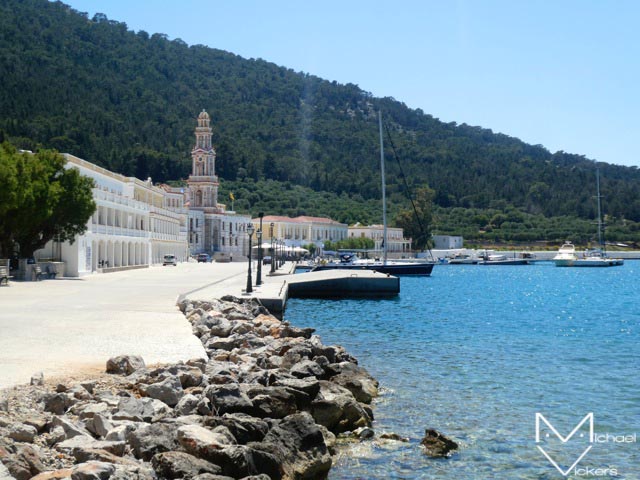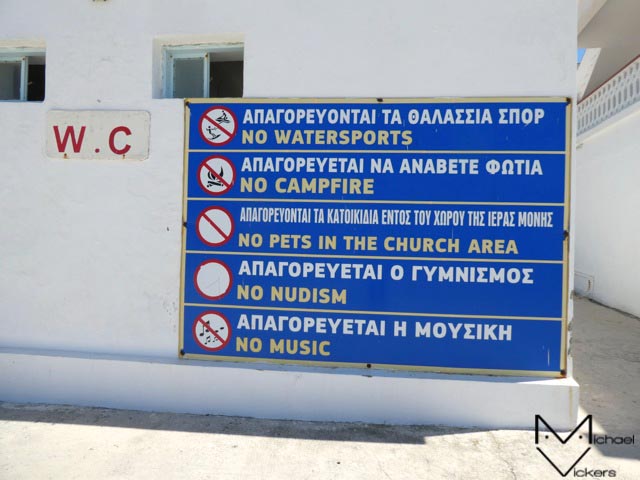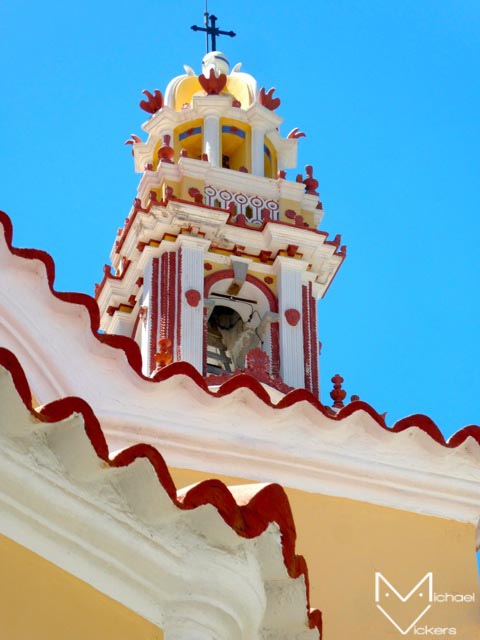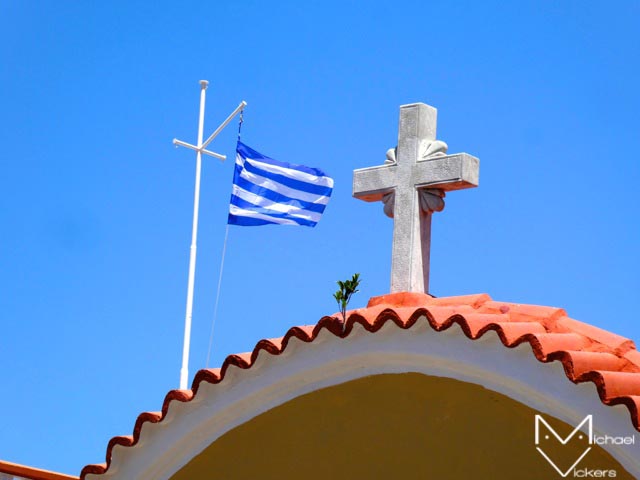 Our first stop was at the serene seafront monastery of the Archangel Michael of Panormitis, tucked away at the head of its sheltered bay. This is a truly lovely spot and we witnessed the end of a child's baptism in a shaded courtyard outside the church. The monastery itself was private, but we were made very welcome at the small and friendly cafe nearby, where we were served small cups of strong Greek coffee.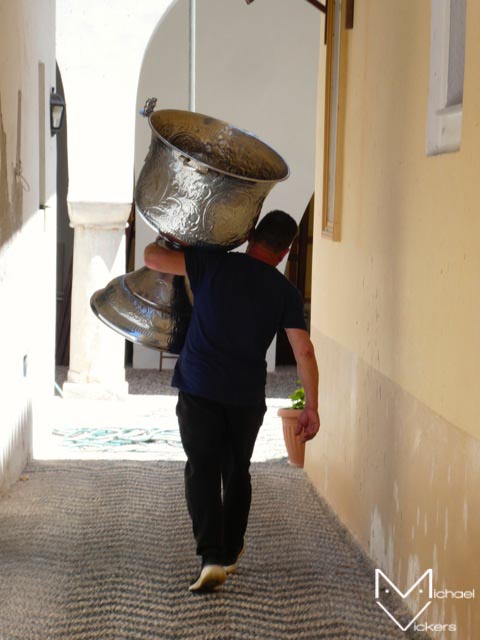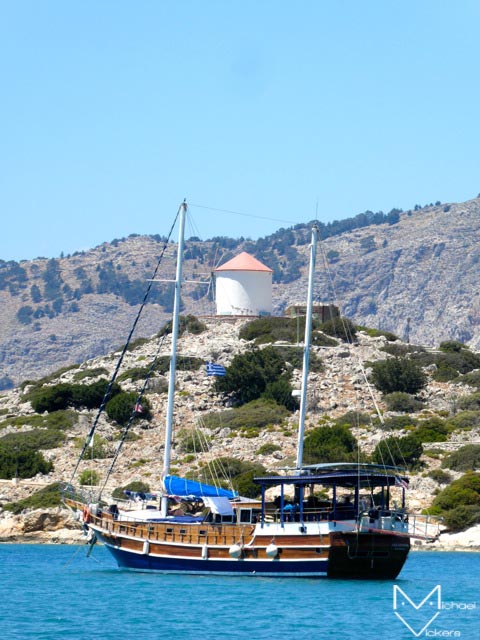 Oktay then steered us around to the other side of the island where we moored in the harbour of Symi town with the assistance of two very genial locals in a dinghy. Clustered around the head of its bay, this is the only sizeable settlement on the island. There are plenty of shops and restaurants strung out along the seafront road with traditional Greek houses stacked on top of each other up the steep slopes behind. The town is extremely picturesque, the houses painted in bright, kaleidoscopic colours. Little wonder we immediately bumped into a wedding party after mooring – what a fabulous place in which to get married.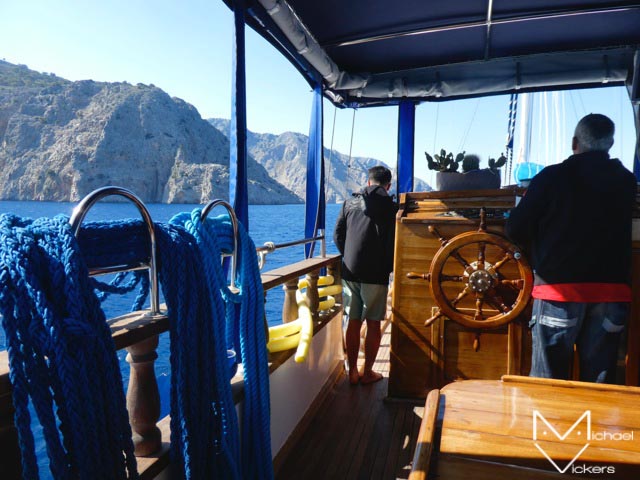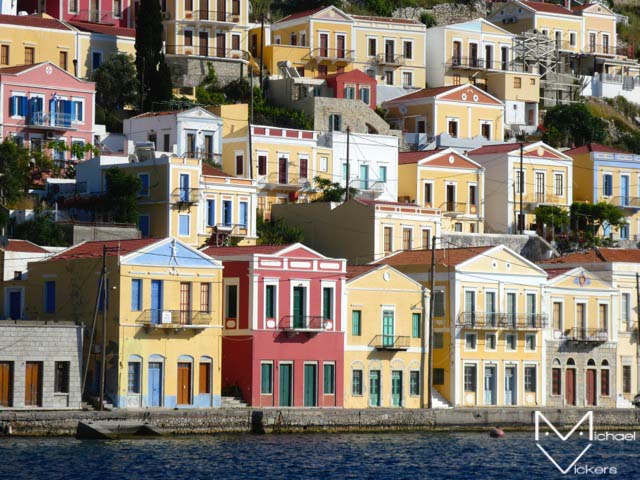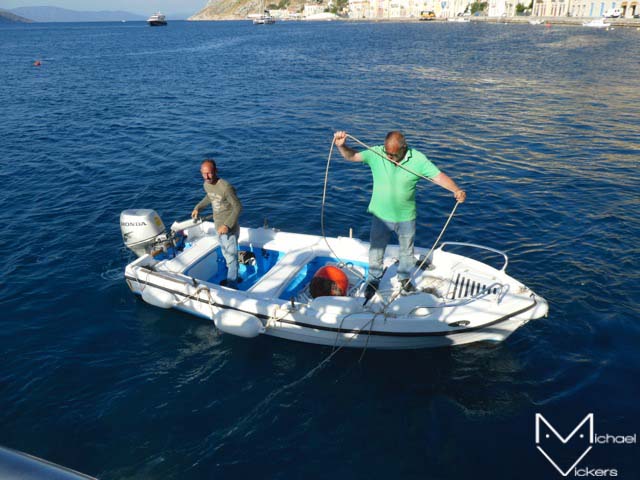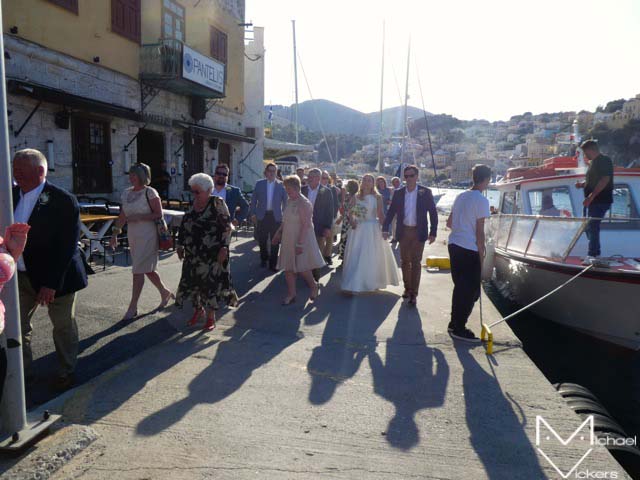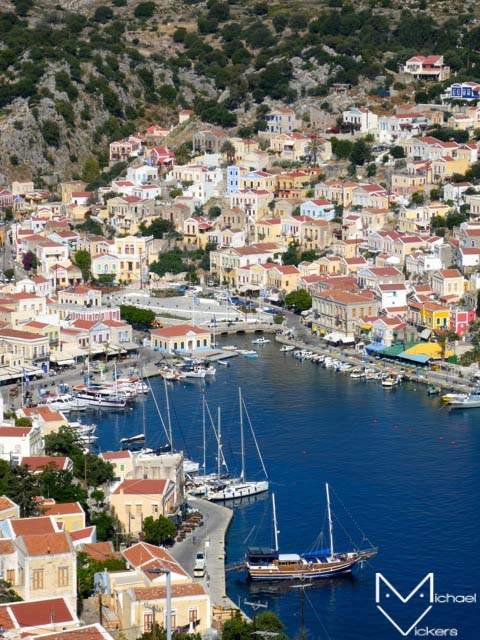 This was an overnight stop for us and as usual, Ozan produced his trademark sumptuous supper. Gulets are renowned for the quality of their catering and Arkadaşlik is no exception. The steaks were delicious. The following morning, while Jan and Deb took themselves off for a nose around town, the rest of us explored the backstreets by bus, including several old stone windmills, some of which had been renovated into cosy holiday lets, and the ruined castle up on the hillside overlooking town.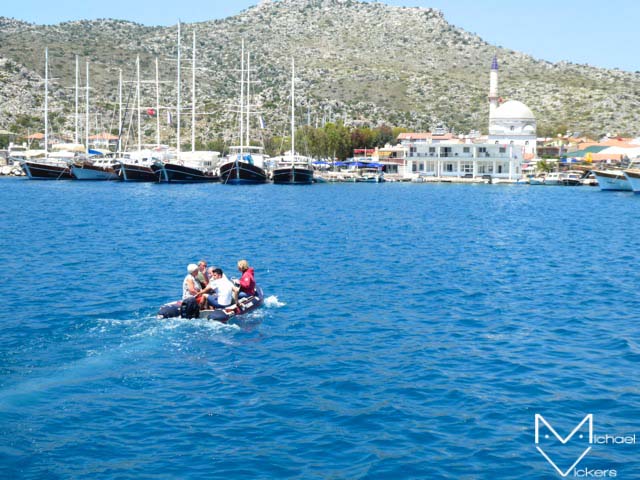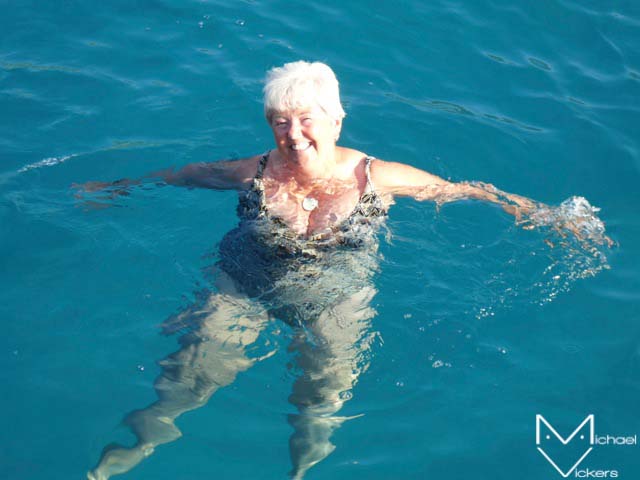 Once back at the boat, we set sail and had breakfast while in transit, returning to Turkey via the little port of Bozburun. This entailed presenting our passports to the police, but the town was sleepy and very hot, so once the formalities were complete, we set off once again after lunch, cruising up the barren coastline back towards Marmaris. There were no houses on these remote craggy cliffs, just rocks, sparse trees and nimble, Olympic-fit goats.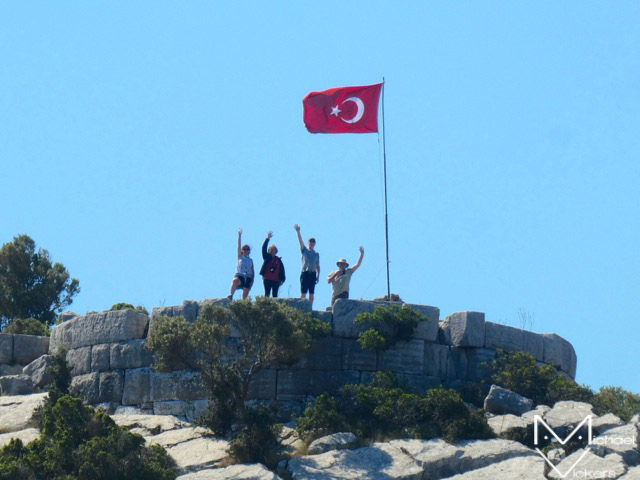 Rounding the last cape, which entailed throwing bread overboard as an offering to a legendary shipwrecked sailor who died of starvation, we moored in Bozukkale bay, overlooked by a ruinous castle. The sea looked really inviting, but the water was still very cold. Jan and I didn't stay in for very long – if I'd wanted my nuts frozen off I'd have opted for a short break in Skegness instead. Rich and Deb were significantly more adventurous and tried out Arkadaşlik's inflatable paddle boards and kayak.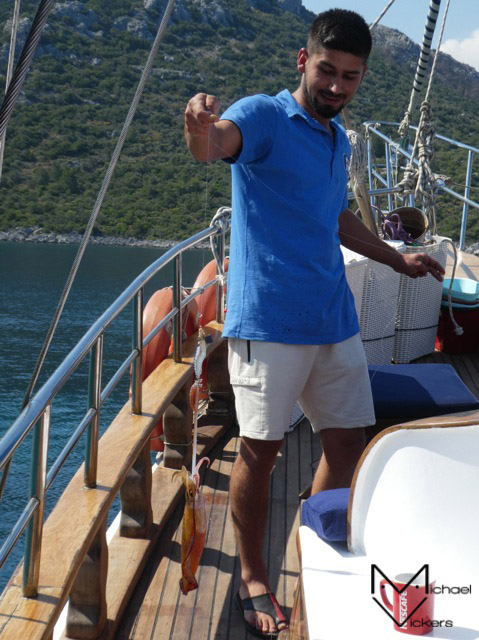 Our next mooring was Kadirga Bay near Marmaris. I had another dip just to see if the sea was warmer. It wasn't. An experienced sea swimmer would have called it 'bracing,' but I'm not an experienced sea swimmer. It was still cold, not that that stopped everyone else, who were all plainly built of sterner stuff.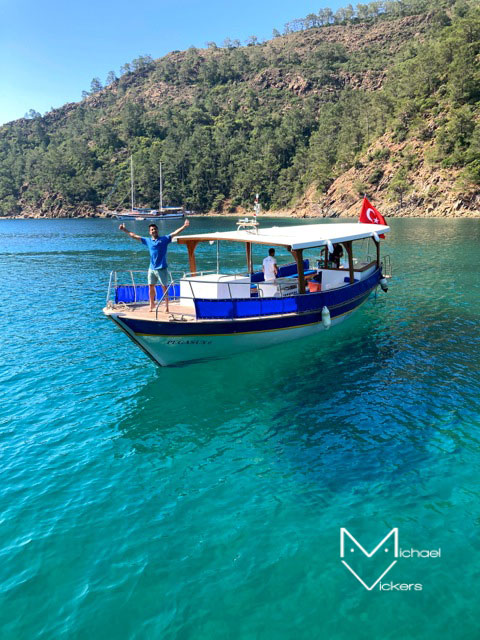 Later in the afternoon, we moved on to Little Ekincik Bay, a very quiet cove backed by heavy forests. We could not see a single point of light in the forest that night. The following morning, Jan was reunited with an old friend from her Saga cruising days. Tacettin used to convey Jan's guests from their gulets, negotiating the reedy and very convoluted Dalyan delta in his day boat to the ancient site of Kaunos and the nearby town of Dalyan.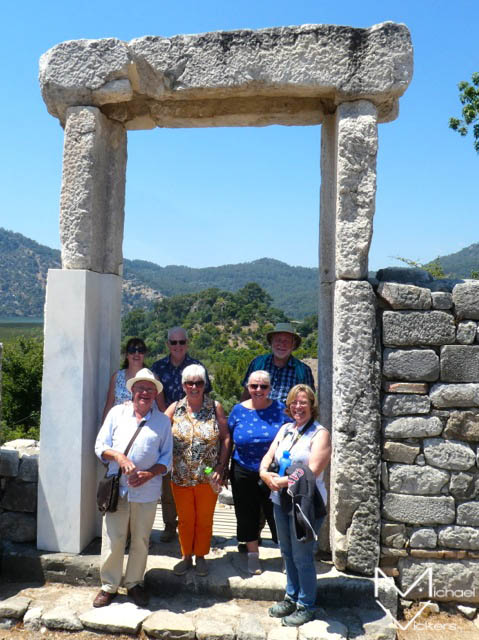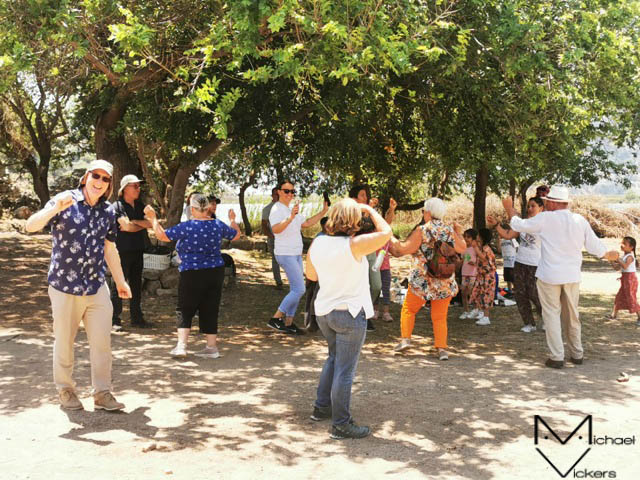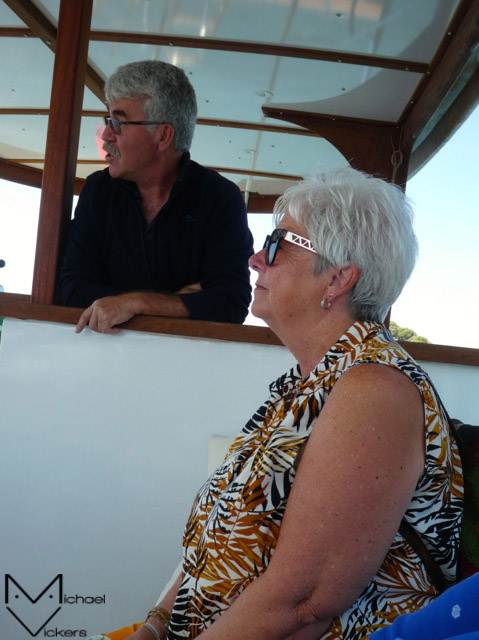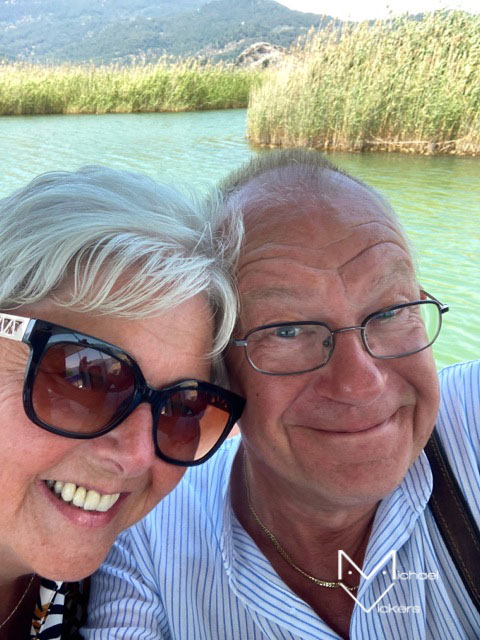 Jan still often mentions Tacettin and so it was lovely to meet him at long last. He's an accomplished boat captain as well as a highly knowledgeable guide and we thoroughly enjoyed our time with him wandering around Kaunos. We also briefly visited Dalyan town for coffee and very refreshing ice cream. On returning to Arkadaşlik, which had been moved into Ekincik harbour during our absence, we were lucky enough to see a loggerhead turtle swimming amongst the boats. Big old boy he was, too, and armed with claws on his front fins for hooking himself onto the ladies during amorous encounters.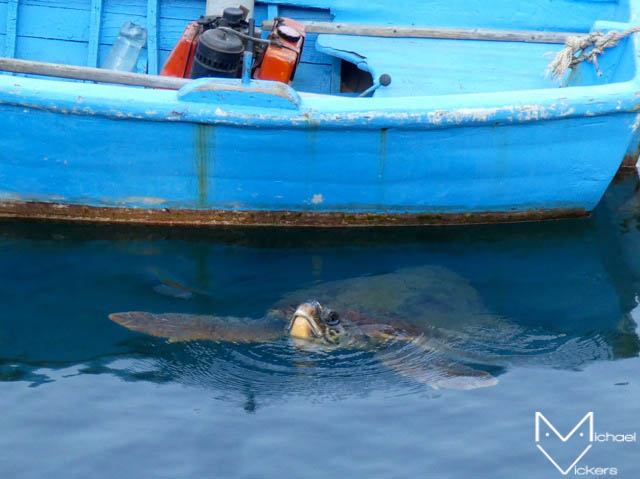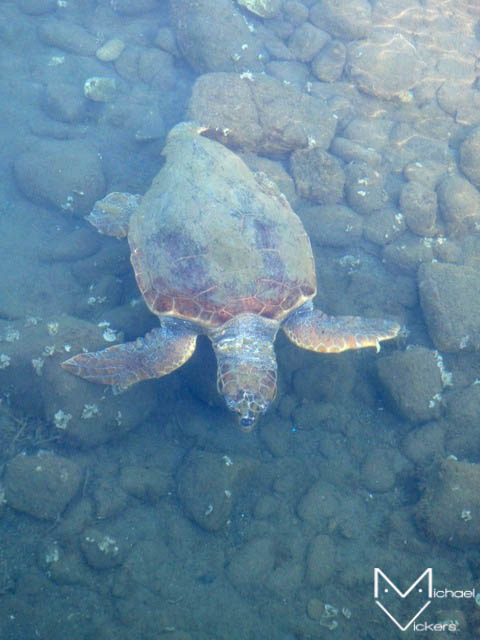 The next part of our return journey was foiled by some rough seas, which forced us back to Ekincik to find a sheltered anchorage. The sea was so choppy Jan and I were unable to slide off the sun loungers on the cabin roof without serious risk of falling overboard, but although returning to Ekincik seemed like a setback at the time, when Jan and I went up to the prow to enjoy our final post-dinner cup of tea at the end of the evening, we witnessed the rise of a blood-red full moon over the distant hills. With no light pollution, the night was velvety black, making the moon an even more beautiful sight than normal. We will both long remember the beautiful moonrises on this cruise, that's for sure.


Oktay set off early the following morning to make up for yesterday's aborted sailing. The sea was much calmer and we made good progress, eventually reaching the Göcek Islands. We knew we were well on the way home now because we could see pointed peak of Babadağ in the distance. We anchored in Merdivenli Bay, a tiny cliff-backed cove with a tree-shaded ravine leading up through the forests to one of the remotest hamlets I've ever seen in this part of Turkey.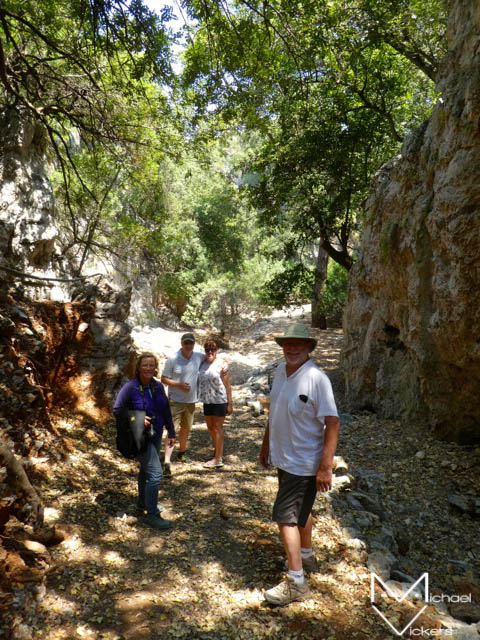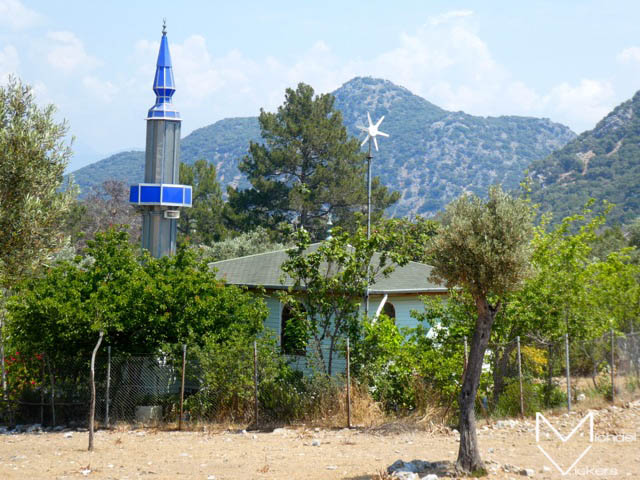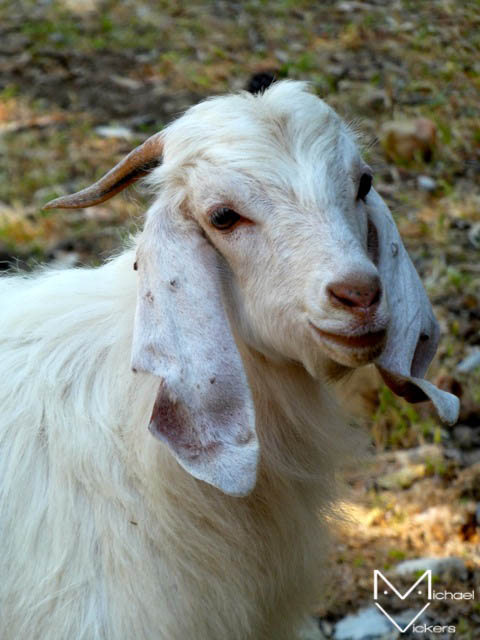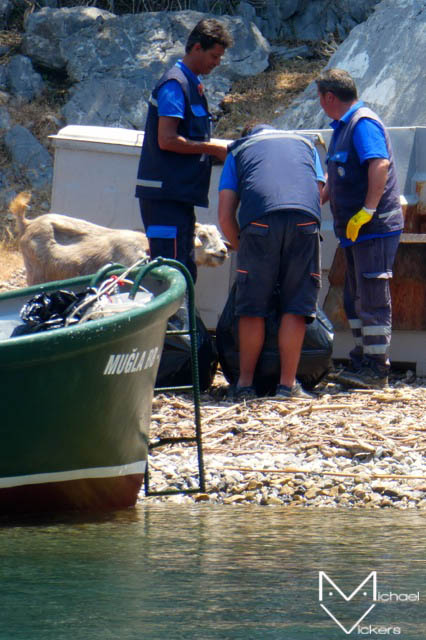 Accompanied by Charles, Shirley, Rich and Sue, we explored this rural retreat of less than a dozen or so houses, all clustered around a tiny mosque. There was no road in or out and no electricity, so they're pretty well cut off from civilization. This is subsistence farming at its most basic, with vegetable patches and lots of inquisitive goats. It was a sobering example of the vast gulf between the haves, bobbing around the bays in their super-expensive gin palaces, and the have nots, who still live the simplest of lives.


After enjoying a few hours moored at nearby Hamam Bay, our final anchorage of the voyage was in Sarsala Bay where we said goodbye to our fellow passengers. The delays at the start of the voyage meant that Shirley and Charles had been compelled to change their return flight and by good fortune, would now be joining Rich and Deb on the same flight back to Bristol Airport. Their bus arrived in the early evening and we waved them off after an absolutely wonderful holiday, its success measured in part by the disturbing amounts of weight we'd both put on during the cruise.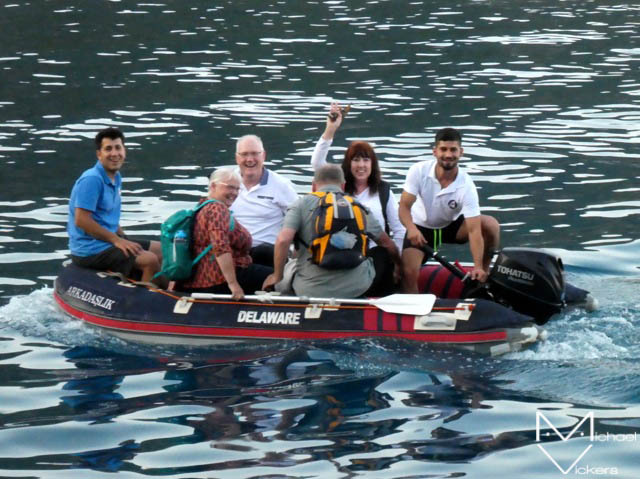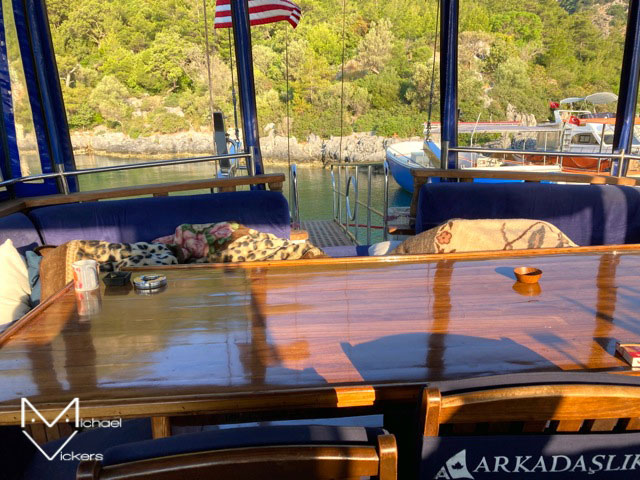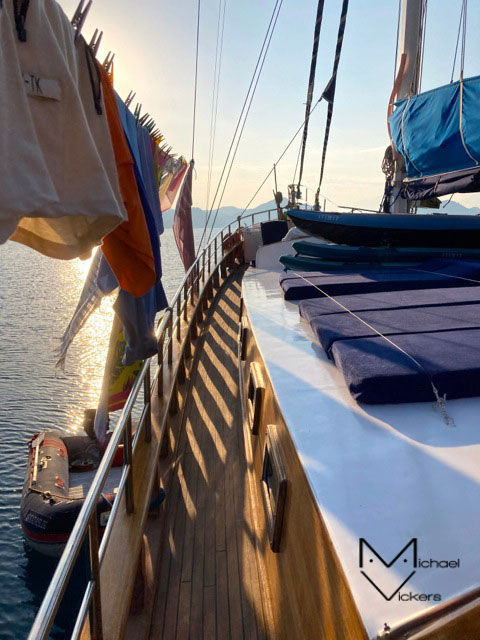 Jan was up very early the following morning. It's a really beautifully quiet time of day, with no movement at all and a sea dead flat. Murat and Ozan were bundled shapes under their blankets at the stern. We sat enjoying the moment when Sue appeared with her camera. Apparently, Oktay had just seen dolphins, but unfortunately, we didn't.


I have to say Arkadaşlik seemed strangely deserted as we sailed back across the gulf to Fethiye and home.


Note: As passengers, all you need to bring are clothes suitable for the time of year and personal toiletries. Remember, it can chill off at night on the sea in the early and late part of the season.


Everything else is provided on the boat, including Wifi, bath and swimming towels. Jan and I watched our fellow passengers zip around on kayak and paddle boards while reclining gracefully in the shade and sipping mint julips, just like the great Hollywood stars of the 1930s. To be honest, I have no idea what a mint julip actually is, but it does sound much more suitably exotic than our usual afternoon cup of tea!


Finally, we'd like to say a huge thank you to Sue, Oktay, Murat and Ozan for another wonderful cruise. Their service was exemplary, the itinerary spot on, the catering delicious and the company first-class. Cruising around Greece and Turkey by gulet is definitely one of the most pleasant ways to spend a week.


Phone English: +90 (535) 738 83 90
Phone Turkish: +90 (544) 510 64 30
Email: [email protected]
Website: www.arkadaslik-yachting.com
The link to our cruise can be found on: https://www.arkadaslik-yachting.com/cruises/2022-05-09-cruise.html