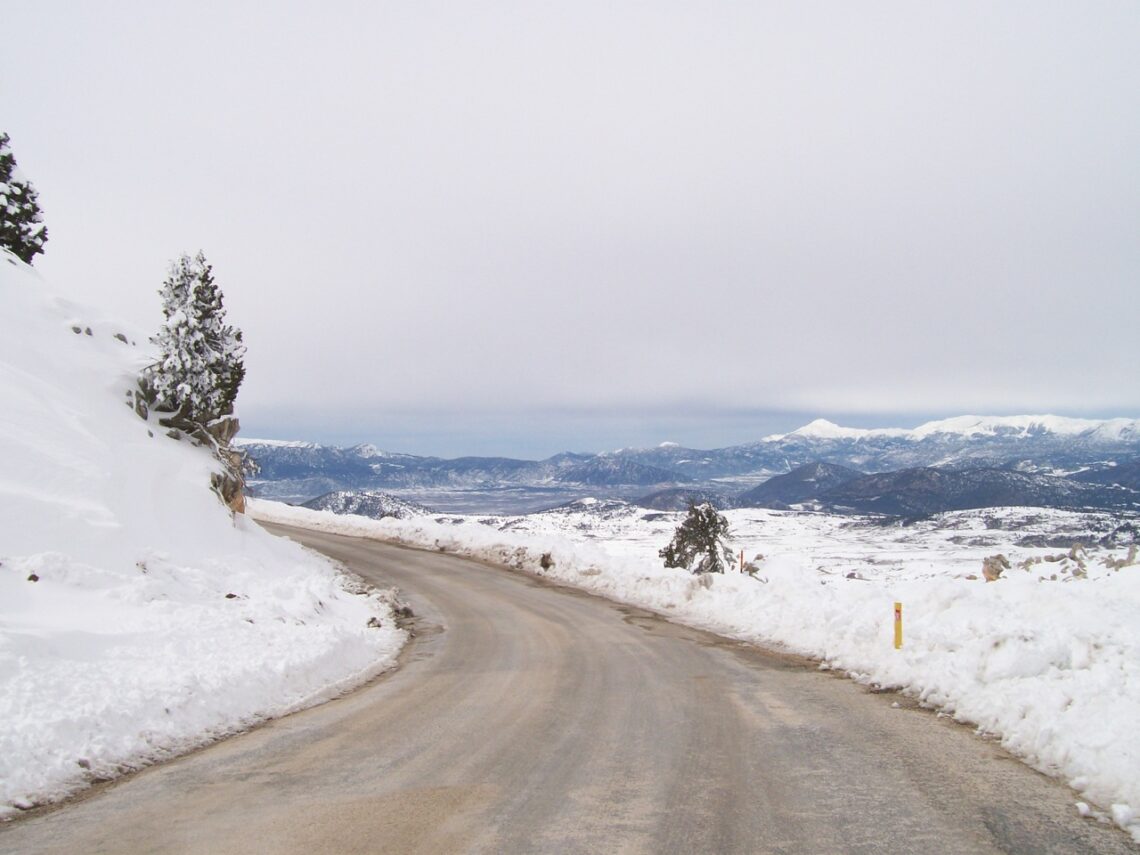 Photographs by Mike Vickers
Feature photo above: Snow at the head of the Göğübeli pass. I thought you'd appreciate this chilly vista now that the temperatures are really starting to climb in Fethiye. I know I do…


If you're fortunate enough to be occupying in a window seat on a daytime flight, two features catch the eye as your plane dips down on its final approach into Dalaman airport. Firstly, there's endless rows of dark green dots scattered across the landscape which, upon exiting the airport, you discover are grove upon grove of orange trees. This is definitely polka-dot country, although not the only one Jan and I have seen – the landscape north of Malaga in Andalusia is identical, but in that instance the trees are olives.


The other notable feature, and frankly it's difficult to miss these because they're really rather lumpy and scattered around all over the place, are the mountains. Turkey is most definitely a mountainous country, although perhaps not quite as much as Nepal, but very definitely more so than The Netherlands. These vary in size from our trio of local peaks, Babadağ, Mendos and Çal over Nif way, all the way up to Ağri, the Biblical Ararat, over in the far east, which tops out at a highly respectable 5137 metres, a smidge under 17,000 feet in old school measurement. I think you'll agree we're straying into serious Himalayan territory at that height.


The numerous tectonic plates beneath Turkey have been dancing a slow tango with each other for millions of years, resulting in a generously crumpled terrain across almost all of Anatolia, and if you want to drive any distance, you will sooner or later inevitably encounter something high, rocky and very stubborn indeed. When confronted with this situation, there are the two classic options – over or around. The road from Fethiye to Isparta is a good example of a route that swings back and forth around some of these ranges, but today I want to talk about going over the top, although not quite in the same heroic way as my grandfather did on the Somme!


If you're prepared to leave the main roads behind then there's a good selection of high passes to consider traversing, however, let's stick with just three local routes which can be tackled without significantly tightening parts of the body not talked about in polite society. These have all been chosen not only for relative ease of driving, but also for a sense of adventure and with the added bonus of encountering some really lovely scenery along the way. One route is local to the Fethiye area whereas the other two are a little further inland, and although both of these were mentioned in passing in my previous article on Elmali last year, they are certainly worthy of further examination.


The first mountain pass is over the far flank of Babadağ and can be reached by taking the Faralya road out of Ölüdeniz. This road climbs the cliffs above the sea with a distant misty Rhodes floating way over on the horizon. Turn left at the junction beside the radio masts above Butterfly Valley, signed to Karaağaç, and follow the road up into the hillside village of Kirme. As with many other outlying areas around Fethiye, there's a slew of new development here, with luxury villas springing up all over the place. I can see why – it's a very lovely location.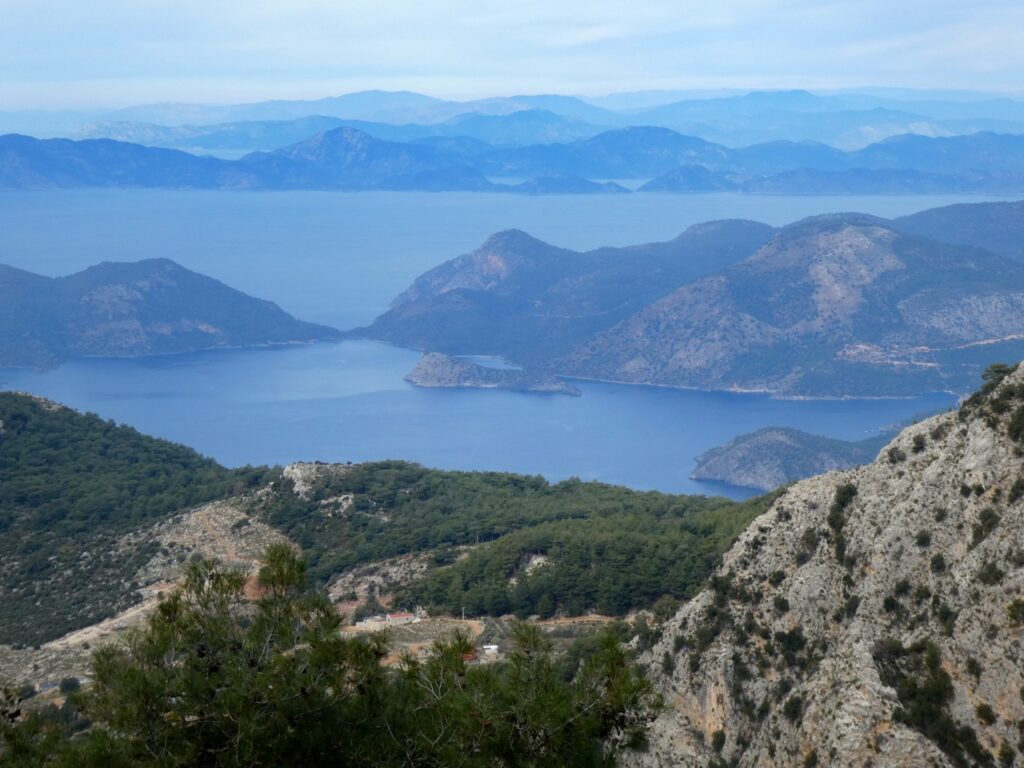 Resist taking any side turnings and drive on through the village. The road then begins to climb in earnest, plunging back into the forest and switchbacking up a series of no-nonsense hairpins, each with its own expansive vista. This climb to the top of the pass has only recently been upgraded from a forest dirt track to tarmac, making it safer, easily manageable and definitely much less destructive on the suspension of your vehicle.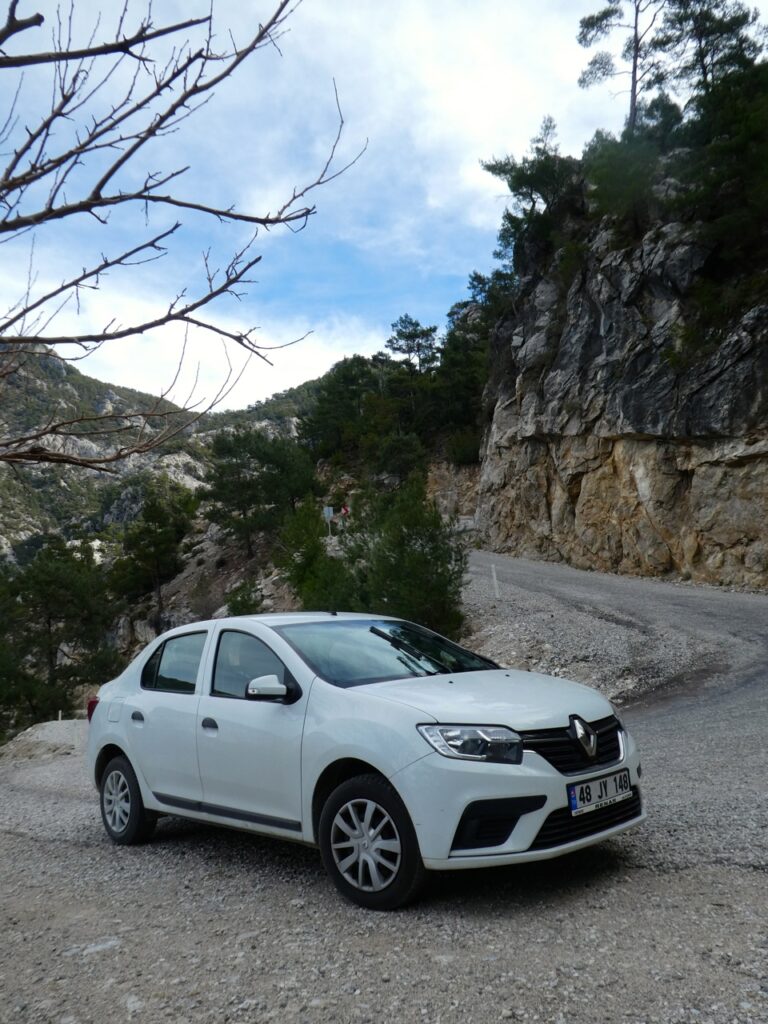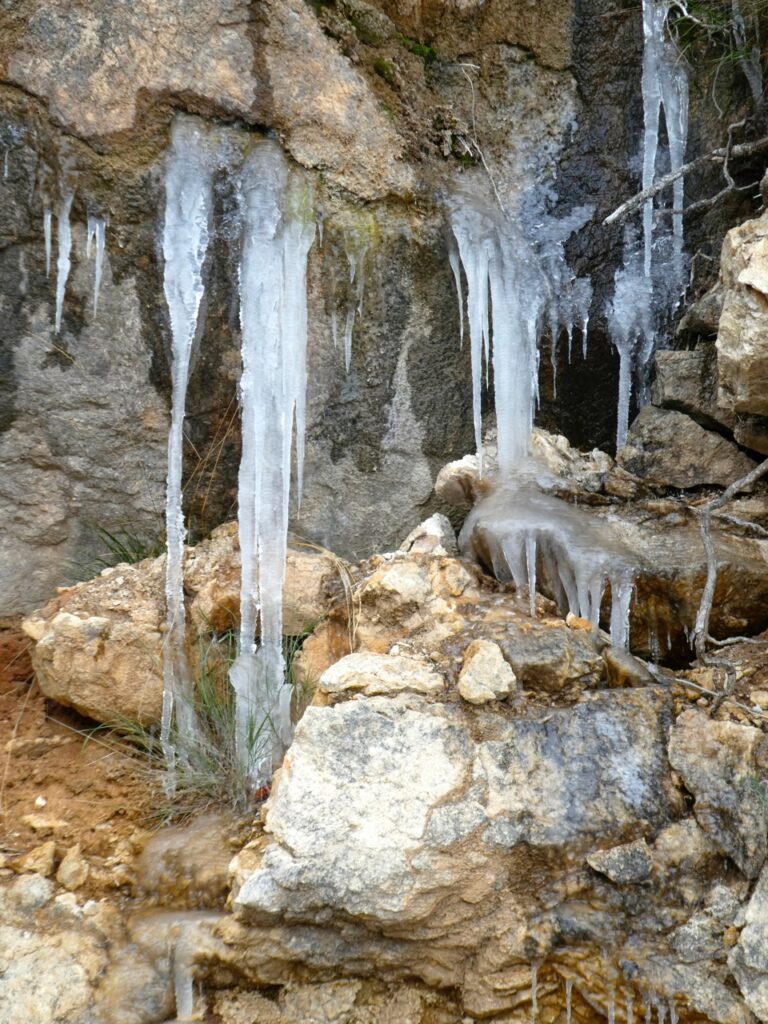 It was on this stretch back in February that we fetched up behind a Belediye lorry with an industrious gang shovelling hot aromatic tarmac into every pothole they could find. They gave us a cheerful wave as we drove by and, of course, as any driver around here knows, it's then your civic duty to drive over this freshly-dumped tarmac to flatten it into the pothole, and we kindly obliged.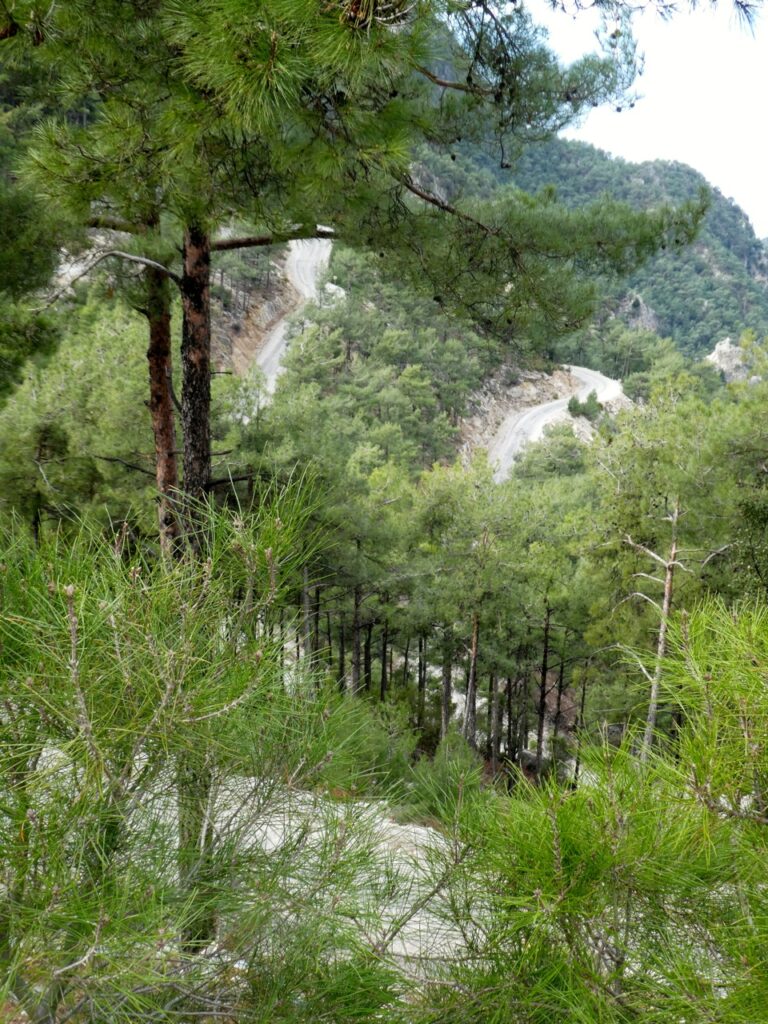 The views are tremendous at the top of the pass, on the one side out over a sparkling azure sea, and as the road winds back and forth across the ridgeline, inland towards the high Akdağ range which, unsurprisingly for February, was still generously capped with pristine snows. The road meanders through the forest for a long way with glimpses of cliffs and hidden beaches before descending into Karaağaç, after which it finally turns away from the coast and heads inland, descending along broad valleys and passing through rural Boğaziçi and its surrounding farmlands before exiting onto the D400 near the town of Eşen. From there, the journey back into Fethiye is on this first-class road.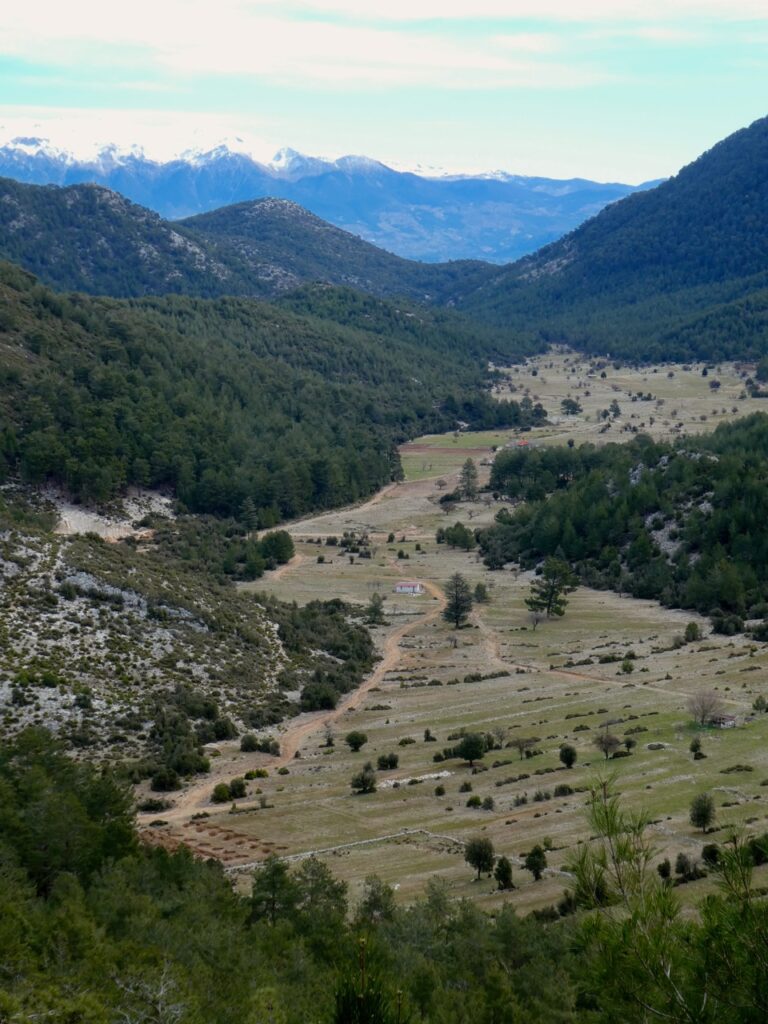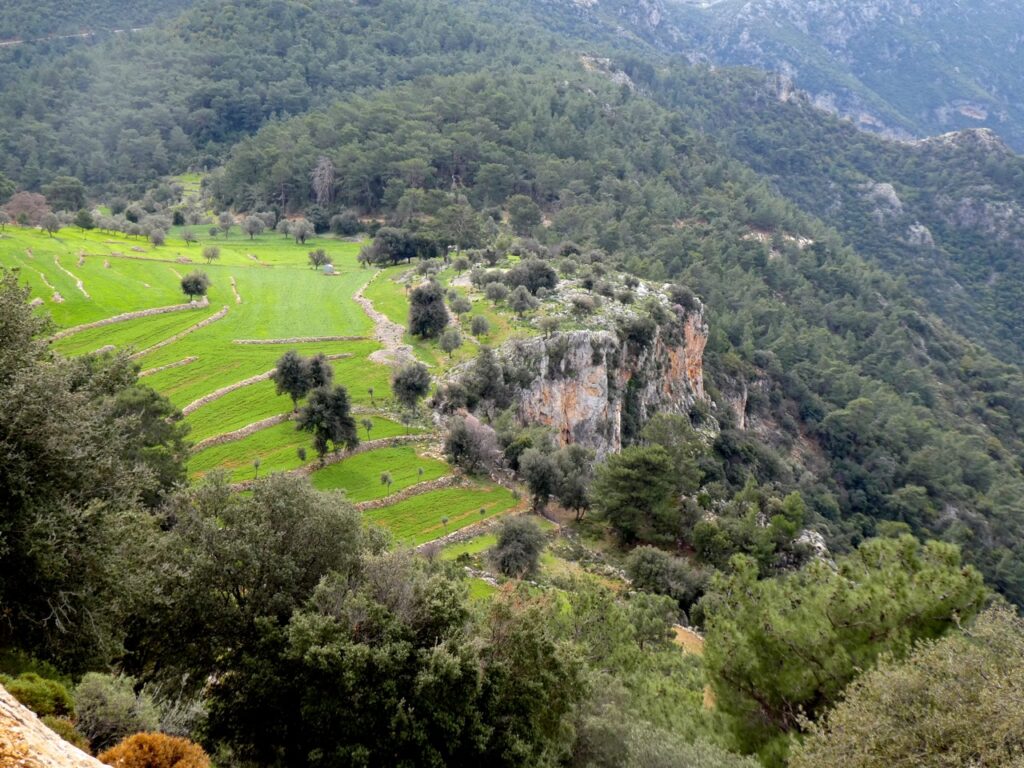 This route is really quite lovely and there's lots to see, from splendid coastal vistas to little pastoral villages that have not changed much in generations, and on a hot day is a very enjoyable way to spend a few hours at a noticeably cooler elevation than Fethiye.


The second mountain pass is one of our favourites – the Göğübeli, which connects Seki to Elmali. Leave Fethiye and head towards Seydikemer on the D400, then take the D350 over the mountains towards Antalya and after climbing up onto the rolling Anatolian uplands, turn right towards Seki beside the newly-restored elegant stone Ottoman bridge.


If you don't want to drop in on Seki, carry straight on at the roundabout where the hand is holding the apple – you'll understand when you see it – and follow the signs to Elmali. The road soon starts to climb the long flank of the mountains, and as you rise higher and higher, the pines finally give way to gaunt, gnarled junipers, the only trees tough enough to endure the bitter winters experienced at this altitude.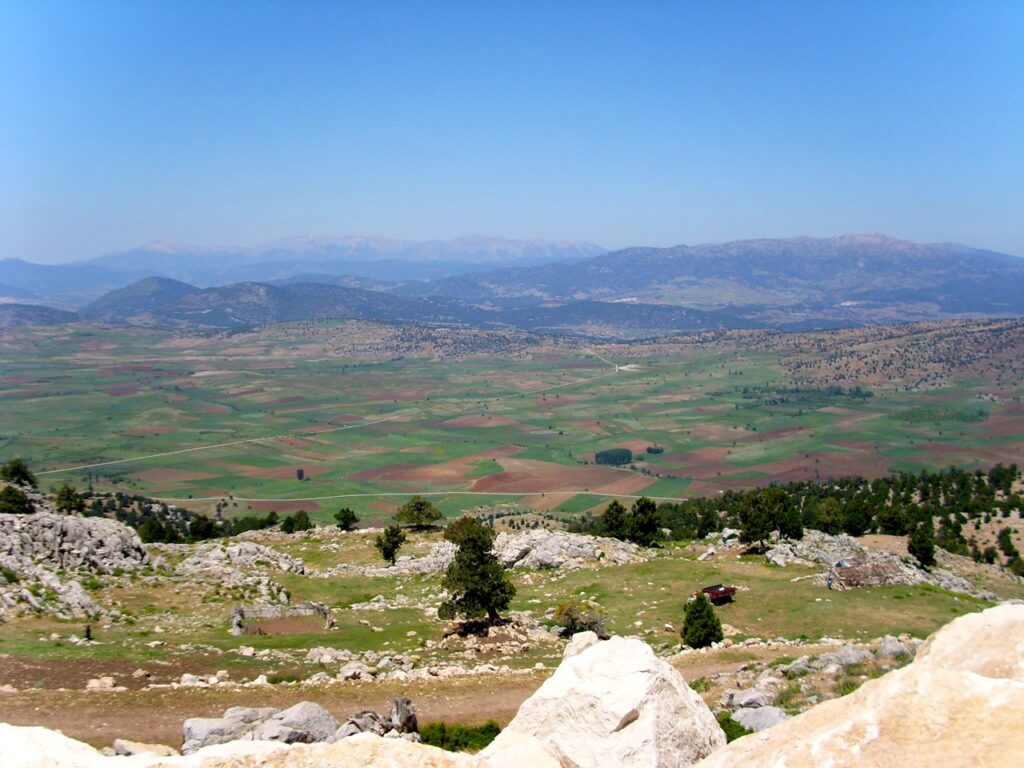 The summit here is at a height of 1850 metres, or just over 6000 feet, where a sign beside the road indicates this crest is also the boundary between Muğla and Antalya provinces. Looking back into Muğla, the panorama is huge, with a breathtaking sweep down across the broad valley far below and beyond, ridge upon ridge of mountains fading into the distance. Turn around and the spectacle into Antayla province is totally different, yet just as beautiful, with steep-sided valleys nestling between great crags and peaks, but whichever way you look, it's quite a view.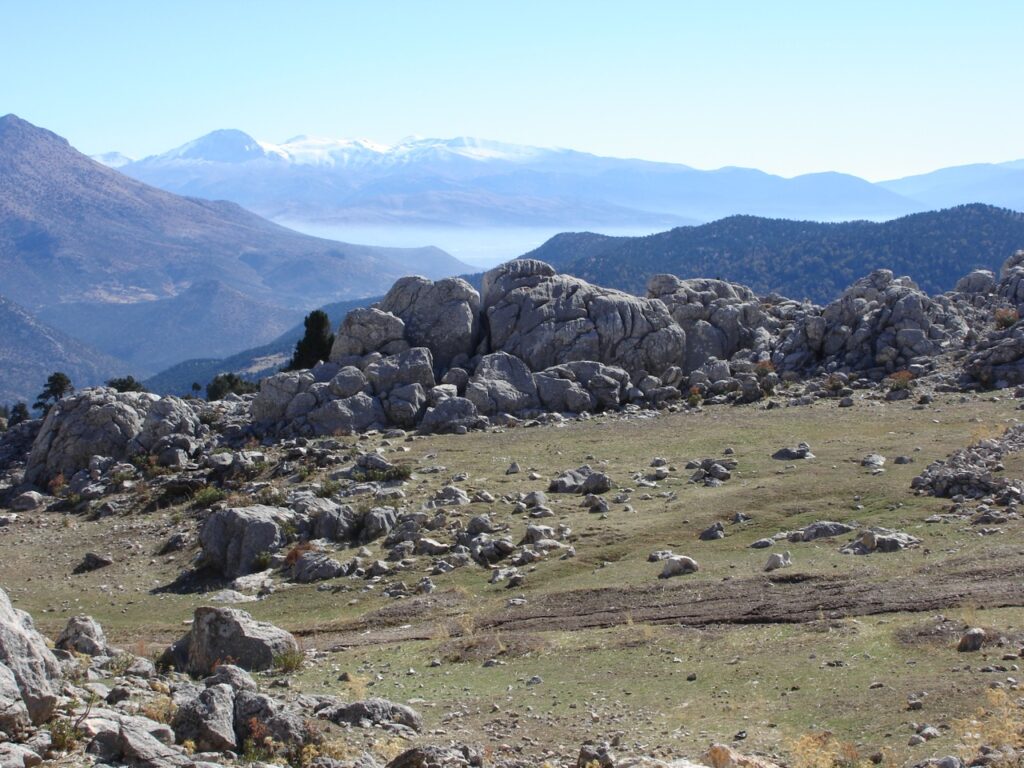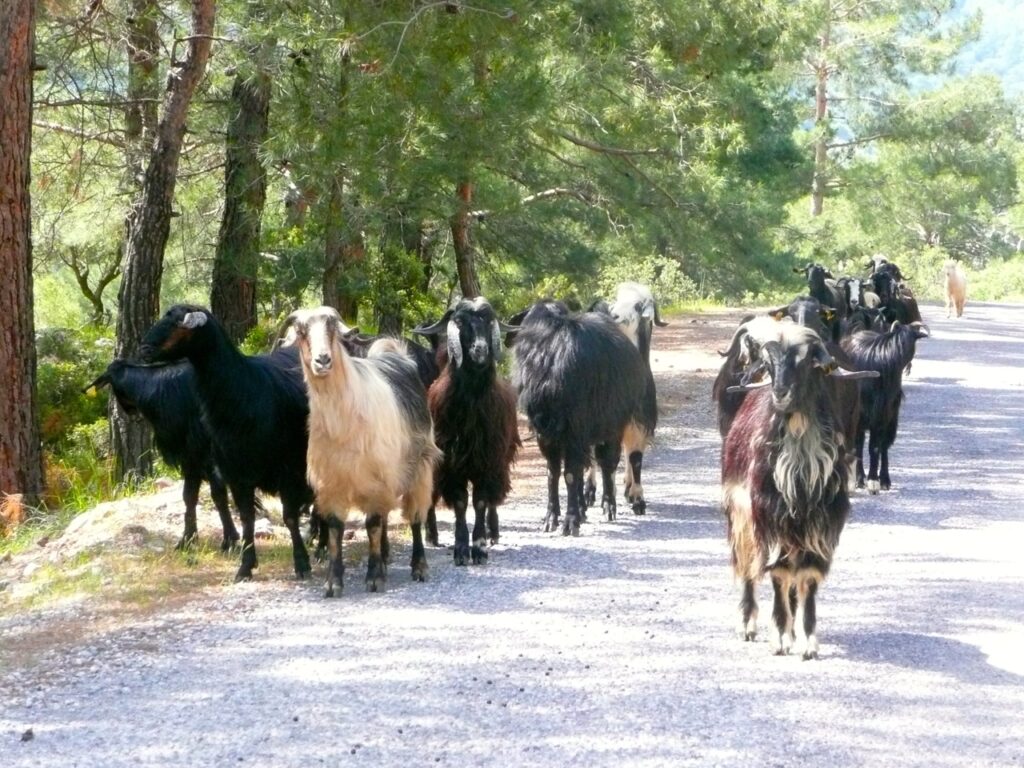 You can, of course, choose to return to Fethiye the way you've come, tracing your steps back to Seki again and picking up the D350, or, if you wish to carry on to Elmali, the road descends in a steep series of hairpins, and as the height is scrubbed off, the forest pines reappear again, followed by small fields and very pastoral villages before the road emerges from a ravine into the Elmali yayla, a huge flat-bottomed valley noted for its extensive apple orchards.


The third mountain pass is one that can be used in conjunction with the above to create a round trip back over the mountains to Seki. On leaving Elmali, take the main road to Finike and Demre and a few kilometres out of town turn right towards Kaş and Fethiye. Pass through Düdenköy and turn right just beyond Beyler, signed towards Yuva This little village nestles right up against the foot of the mountains as if huddling for protection, which is hardly surprising because, although we've descended from the heights of the Göğübeli, the valley itself is still at a significant elevation, with winters cold and snowy.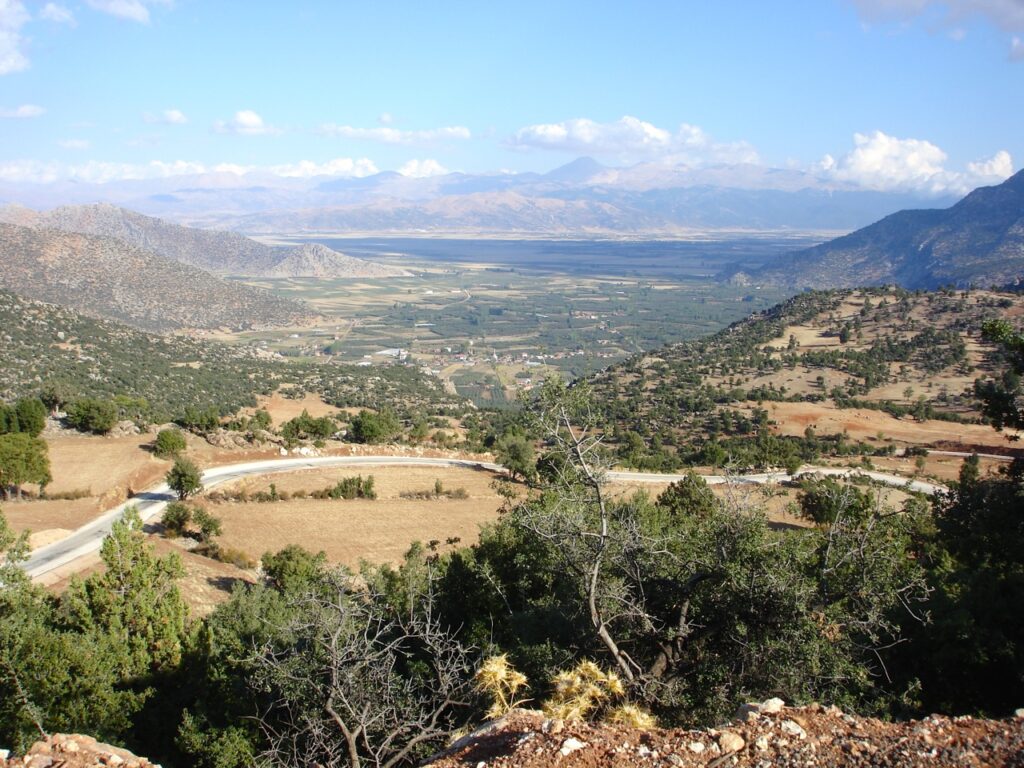 Beyond the centre of Yuva, turn right just before the cemetery and follow this road as it starts to climb steadily up the hillside behind the village, taking care as it's single track in places and when we last drove it, some sections of tarmac had disappeared completely, the surface reverting to dirt which had benefitted from having a grader smooth out some of the more serious craters and bumps.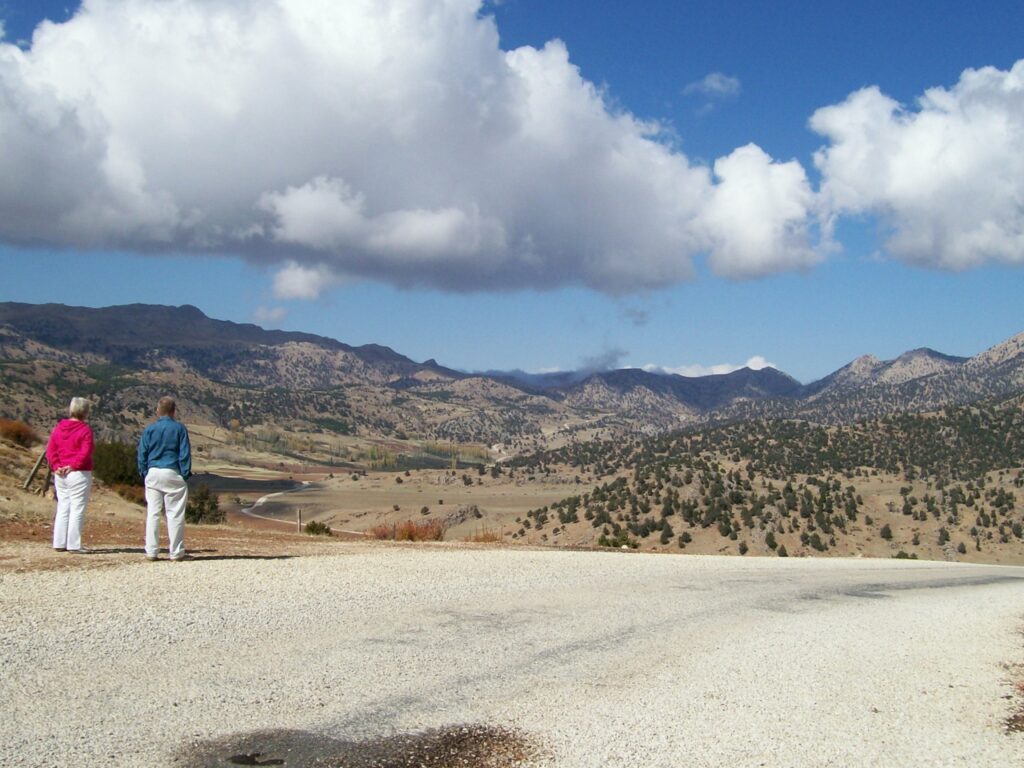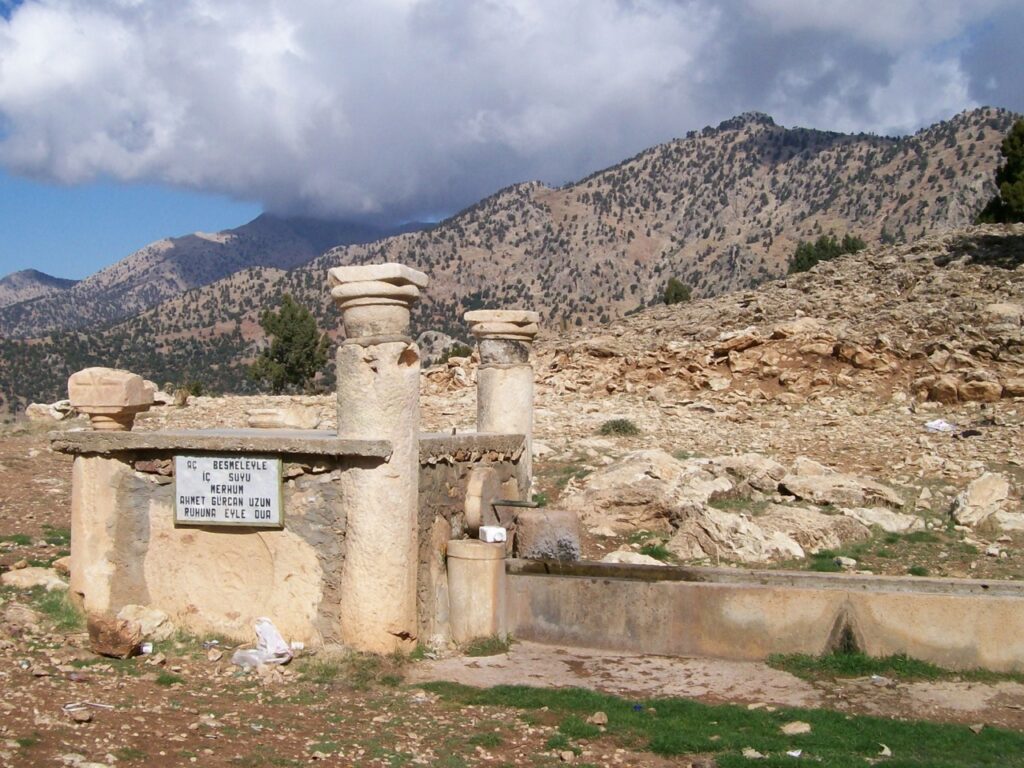 This road eventually reaches a low crest before dropping down into a series of enclosed but spacious cultivated yaylas, each blessed with rich brown soil and protected by the surrounding peaks. All are serviced by the one road, so there's no chance of getting lost. The area is fairly remote and sparsely populated, with most seasonal agricultural workers retreating back down to Yuva to sit out the winter in front of a nice warm soba while sipping a glass or two of çay.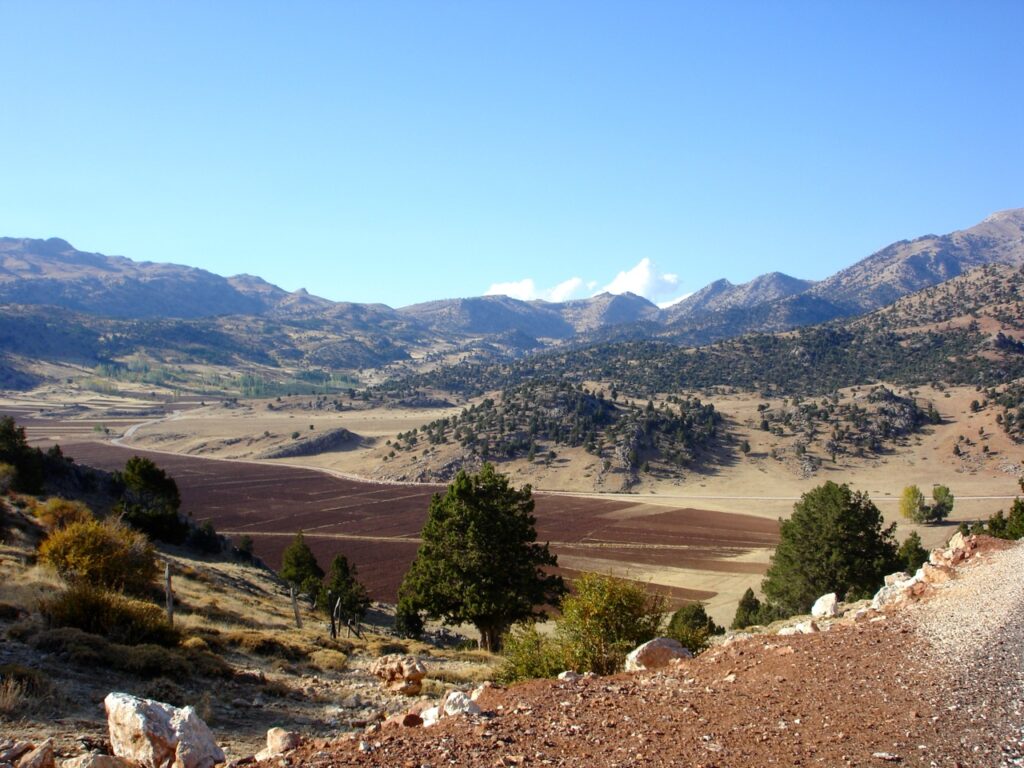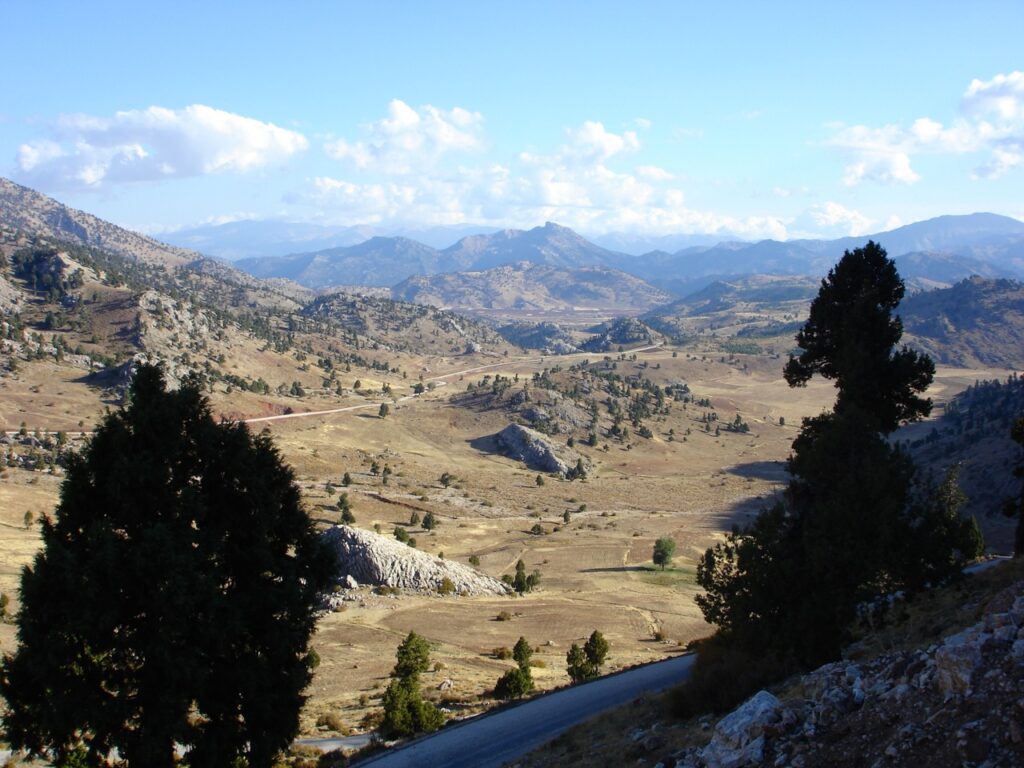 The scenery is wonderful as the road winds through the yaylas, no doubt about it, and eventually, leaving the patchwork of fields behind, the road ascends once more, zig-zagging up to reach the head of the pass, this one even higher than the Göğübeli. We always pause here and listen to the silence – it's so high even the insects are absent.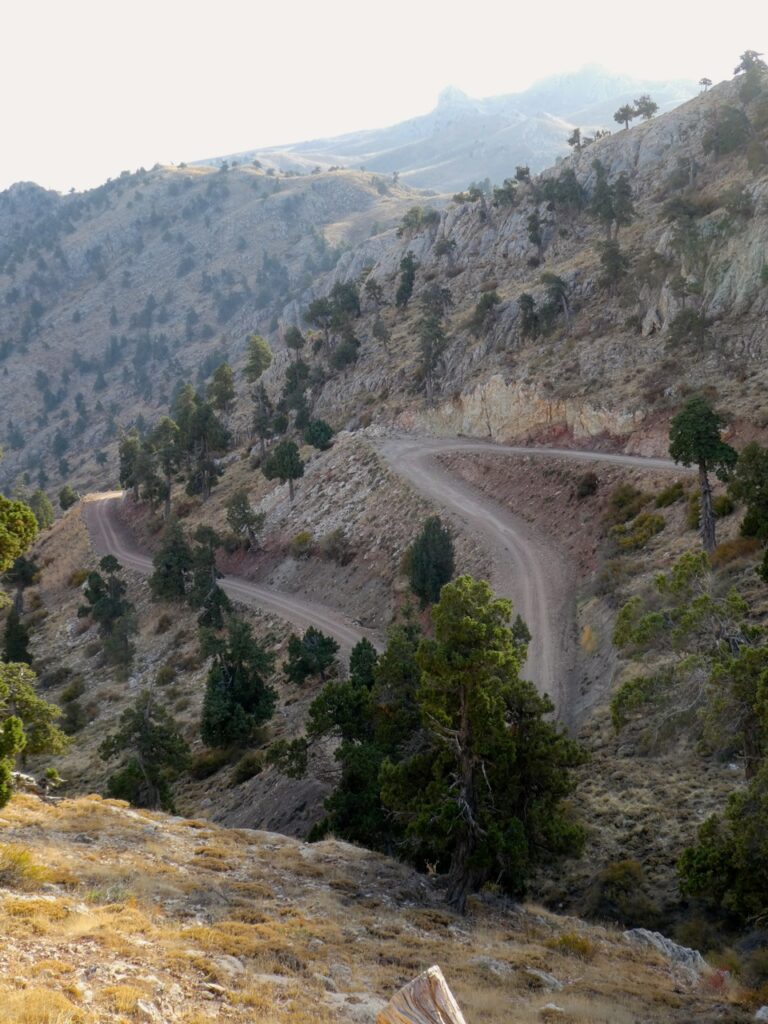 Time for an experiment. I'm sure most people understand the nature of our planet's atmosphere, where air pressure is greatest at sea level and declines as you gain altitude, but under most circumstances, apart from the occasional popping ears, we are not aware of that change. Well, standing at the top of this pass offers the opportunity to conduct an easy practical demonstration of just how heavy air is – and all you need is a plastic water bottle. Ensure the bottle is empty, tighten the cap, pop it into the glove box and forget about it. We'll return to this later.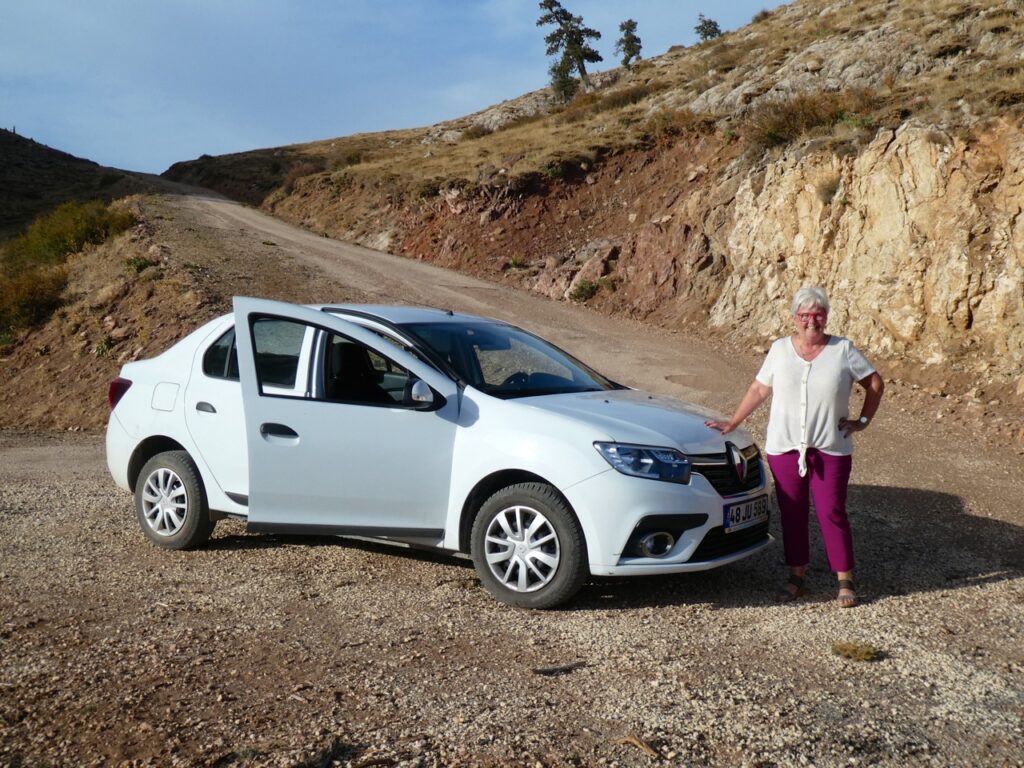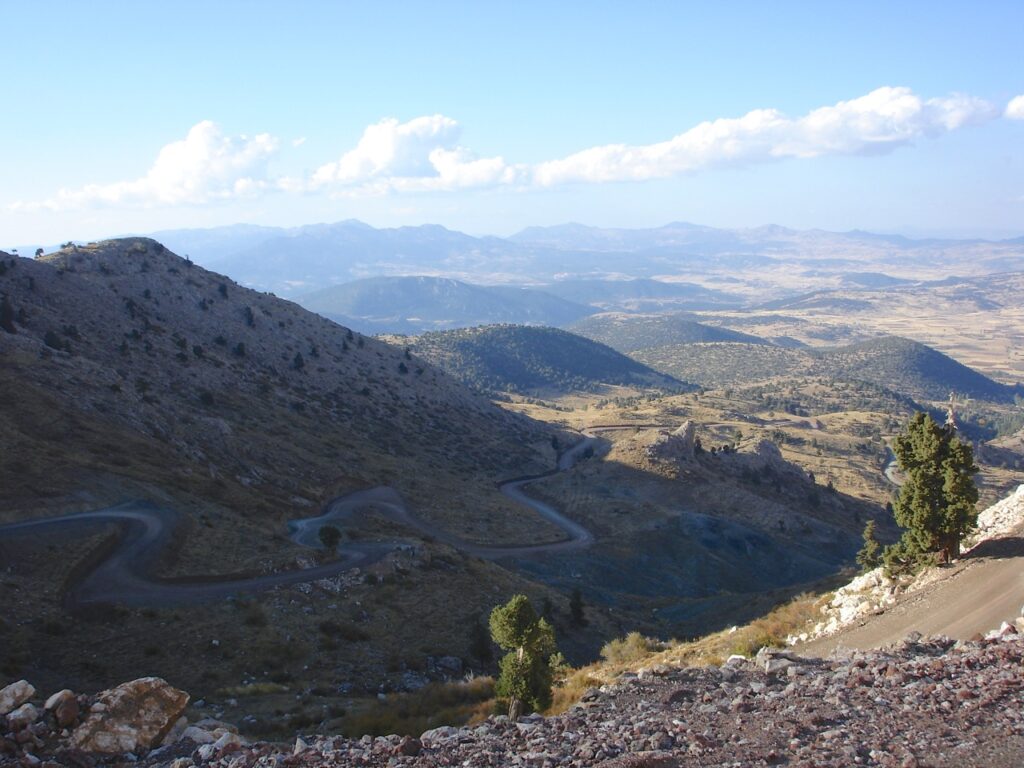 Back to our journey and cresting the summit brings you into Muğla province once again, the road falling steeply in a series of serpentine switchbacks. Thankfully, this is now a tarmac surface, but when we first came up here it was just a dirt track, heavily scored and pitted with dozens of deep erosion gullys washed out by the winter rains. Jolting violently down that road is the reason why, even today, medical science is still unable to discover the current location of my kidneys! Eventually, as before, fields and farmhouses reappear as the terrain gradually flattens and eventually, this road reaches a junction on the Seki to Elmali route, and from there it is a simple task to return to Fethiye once again.


If, after lockdown, you need to banish the last lingering effects of stifling confinement, then there is no better remedy than to get yourself up into the mountains. Those huge skies and distant vistas are balm to the soul and there really is nothing to compare with a lungful or two of cool fresh mountain air, but, as ever, these rural roads do need to be treated with both caution and respect. Surfaces can suddenly become uneven and there are very few barriers, the general principle appearing to be that no sensible driver would go anywhere near the edge. Do drive carefully and be aware of your surroundings at all time so if the unexpected does happen – and that's always a possibility – you can remain safe and enjoy, just like Wallace and Gromit, A Grand Day Out.


And the water bottle? Take a look when you get back to Fethiye and you'll see it crushed and flattened. Air is much heavier than you think!